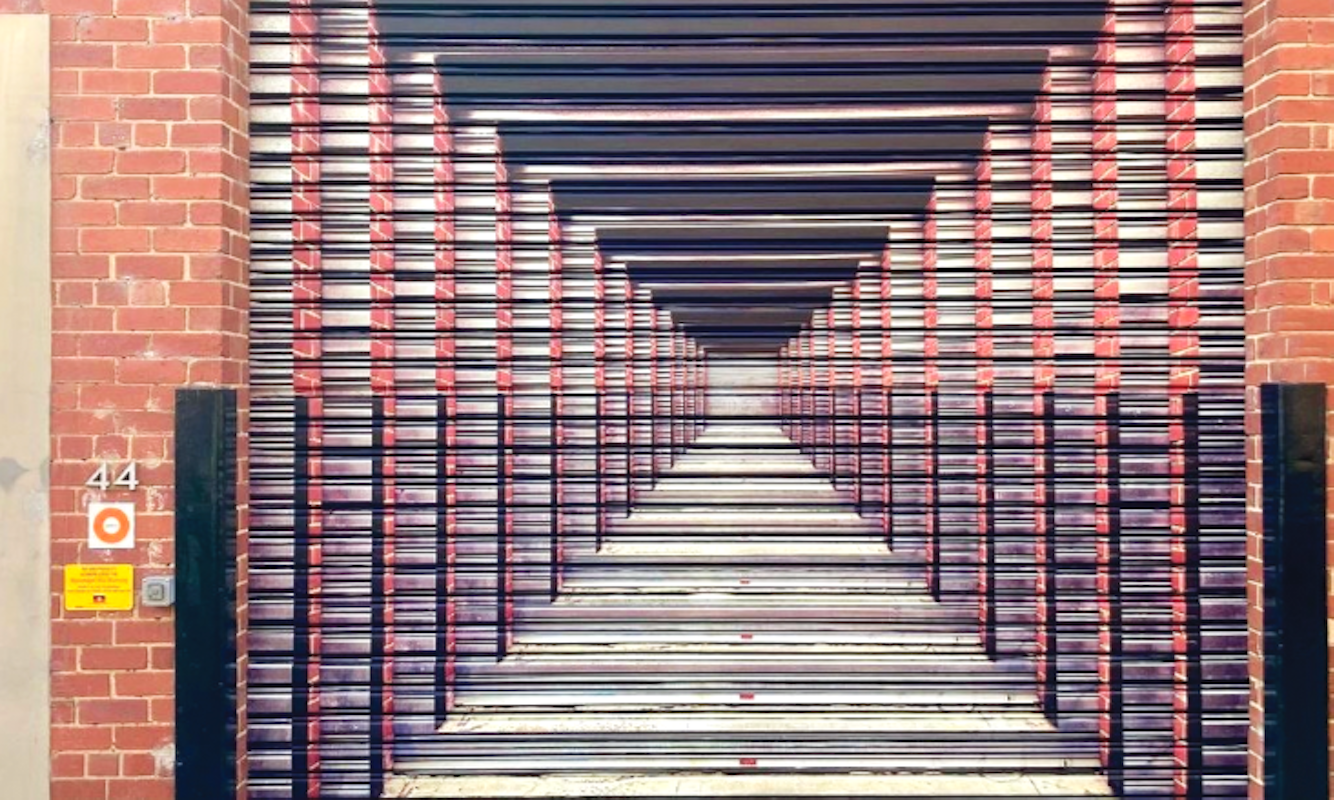 Installation view of the 2023 Glasshouse Roller Door Commission: At the end of the day, by Dan Moynihan, presented at Gertrude Glasshouse, 2023. Photo: Callum Morton
10 September -
1 August 2024
Gertrude Glasshouse
44 Glasshouse Road, Collingwood
Visible outside of open hours
Gertrude is pleased to inaugurate the Glasshouse Roller Door Commission, in what is envisaged to be a series of year-long public art projects utilising the front entry of the gallery. Intended to activate the external frontage of Gertrude Glasshouse during the hours the gallery is not open to the public, the Commission is an expanded offering to the neighbourhood of Collingwood.
For the first commission, Gertrude has invited artist Dan Moynihan to develop a response to the formerly industrial, Victorian-era environment of Glasshouse Road. Working on and with the surface of the corrugated roller door, At the end of the day (2023) uses the representation of the door as its subject matter to create a portal into a seemingly endless labyrinth of structural barriers. Conceived as an intervention that does not alter the environment, but rather, our interpretation of that environment, the work distorts distinctions between barrier and entrance. Taking cue from cinematic representations of train tunnels, the work extends to reference the spatial complexity of Jacques Tati's seminal Playtime (1967), to reflect upon the relationship between site, labour and time.
On the work, the artist reflects:
'At the end of the day, all will be revealed.
The image unspools to a choir of squealing metal on metal,
Backed by death rattles, corrugations respectively reach resting places.
Perpetual daily grind, the ups and downs.
Roller door.
After 18 seconds the interlude shutters to a halt.
The façade folds back on itself,
Portal like perspective,
Space echo.'
The Glasshouse Roller Door Commission is generously supported by Michael Schwarz and David Clouston, pioneering patrons of Gertrude Glasshouse. On this new initiative, Michael comments: 'As Collingwood is increasingly an arts precinct we anticipate that GRDC will become an annual installation. We look forward to working with Gertrude Contemporary and local artists in future iterations.'
Gertrude extends its gratitude to Dan Moynihan, Michael Schwarz and David Clouston, Manfax Paints and Signage, and Jan Minchin at Tolarno Galleries.
Dan Moynihan is Naarm Melbourne based artist working principally in sculpture and spatial installation. Selected recent solo exhibitions include: Out of Interest, Tolarno Galleries, Melbourne (2022); Mixed Emotions, Tolarno Galleries, Melbourne (2019); No More Lonely Nights, Tolarno Galleries, Melbourne (2014); Diplomatic Immunity, Oksasenkatu 11, Helsinki, Finland (2011); It's Not You, It's Me, Grantpirrie Gallery, Sydney (2011); Escape From New Work, L'oeil De Poisson, Quebec, Canada (2010); and In and Out, No Funny Business, Hell Gallery, Melbourne (2009). Selected group exhibitions include: Wesfarmers Collection, Art Gallery of Western Australia, Perth (2021); Enter, Lyon Housemuseum, Melbourne (2019); The World is a Teenager, LON Gallery, Melbourne (2019); A Billion Bucks, Honeymoon Suite, Melbourne (2016); The Joke, Neon Parc, Melbourne (2016); In My Land Palm Trees Grow, Mali salon gallery in Rijeka, Croatia (2014); and NEW11, Australian Centre for Contemporary Art, Melbourne (2011). He presented the exhibition Lost in Space in the front spaces of Gertrude in 2013
Dan Moynihan is represented by Tolarno Galleries, Melbourne.