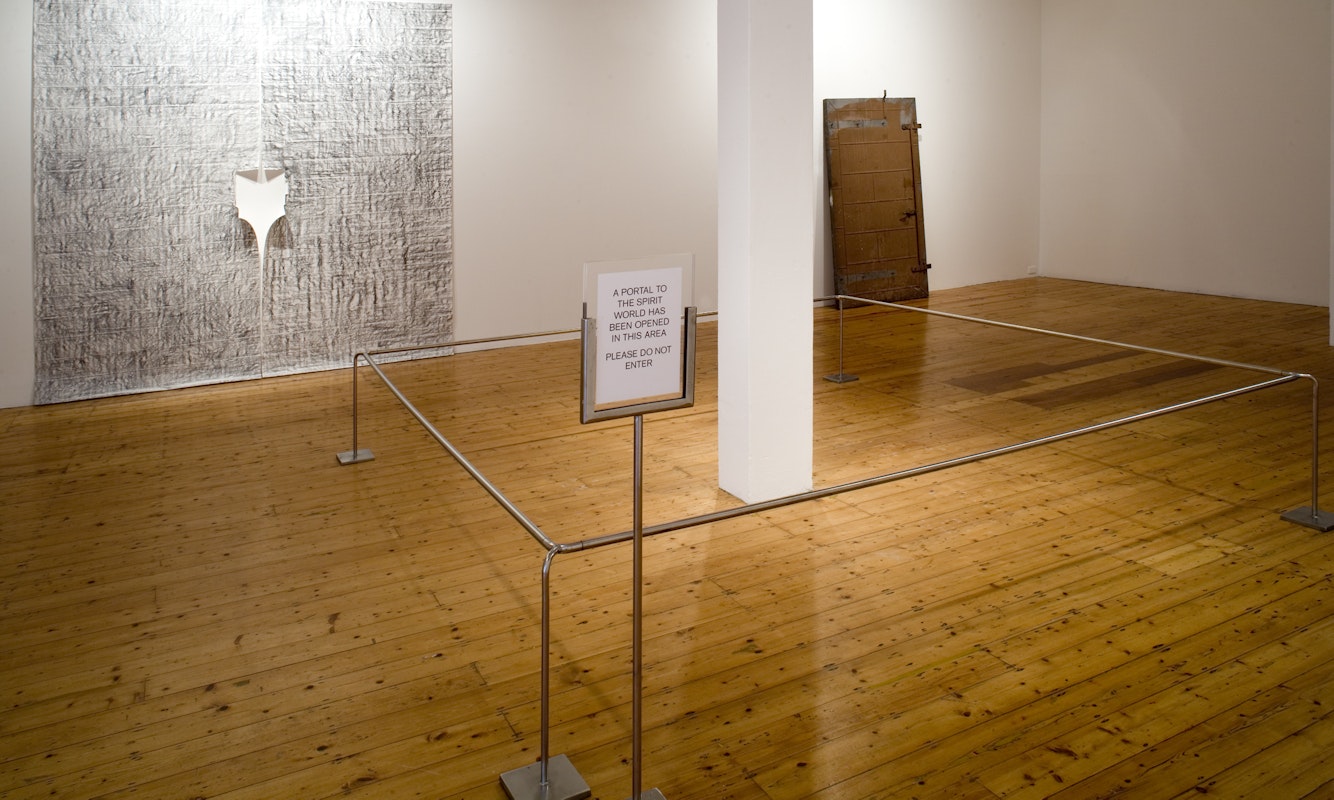 Installation view of Dane Mitchell, 'Invocation' at 200 Gertrude Street
8 February -
8 March 2008
200 Gertrude Street
200 Gertrude Street, Fitzroy
This was Dane Mitchell's first solo exhibition in Australia. Building on previous sculptural installation projects, Mitchell's exhibition at GCAS drew attention to the supernatural and spectral within institutional spaces.
In past works he collaborated with mediums and psychics to explore the phantom inhabitants of art galleries and museums. In his meddling with the unknown, Mitchell has commissioned witches to curse Starkwhite Gallery, Auckland; created a portal to the spirit world in the Auckland Art Gallery; and summoned the spirit of famous New Zealand painter Rita Angus, interviewing her via a medium.
For his exhibition at GCAS he worked with a witch to develop a spell specific to the gallery that was cast for the duration of the exhibition. Presented along with a sound installation, Mitchell embedded thermometers in the wall of the gallery measuring the fluctuations in temperature that indicate the presence of spirits. These projects sit within Mitchell's wider creative strategy where he examines forms of knowledge and power, revealing culture as a shifting system of exchange. In his previous work Mitchell has addressed the networked nature of museums, galleries and the extended art world. Using paranormal, geographical, socio-political, archaeological and anthropological themes Mitchell illustrates how culture is constructed and defined by the ideological forces, conventions, modes of behavior and customs that are seen as the status quo.
Mitchell has exhibited extensively throughout New Zealand and internationally. Forthcoming projects for 2008 include a solo project as part of Art Statements at Art Basel, a residency at Gasworks, London and a group show at Gallerie Triangulo, Sao Paulo, Brazil. Major exhibitions include Mystic Truths, at the Auckland Art Gallery, 2007, curated by Natasha Conland; Rules of Engagement at Westspace, Melbourne, 2007, curated by Mark Feary; Toi Te Papa Art of the Nation, The National Museum of New Zealand Te Papa Tongarewa, 2007; In 2006, he was the recipient of the Rita Angus/Massey University Artist-in-Residence Programme; and traveled to Rio de Janeiro to exhibit a solo project at gallery A Gentil Carioca A Abrigo ou Um Temor do Toque doDesconhecido and The Consequences of Inaction at Starkwhite. In 2006 he also traveled to New York to participate in a group exhibition at Artists Space Local Transit, co-curated by Brian Butler and Christian Rattemeyer; to Santiago to participate in the exhibition Trans Versa, a South Project iniative co-curated by Danae Mossman and Zara Stanhope at the Museo de Arte Contemporaneo; exhibited with gallery A Gentil Carioca at the NADA Art Fair in Miami, Florida; Don't Misbehave! SCAPE Art and Industry Biennial, co-curated by Natasha Conland and Suzanne Jaschko, Christchurch; Free New Zealand Art, curated by Tobias Berger at Para/Site, Hong Kong; and Archiving Fever, curated by Emily Cormack, Adam Art Gallery.
[Bio current as of 2008]