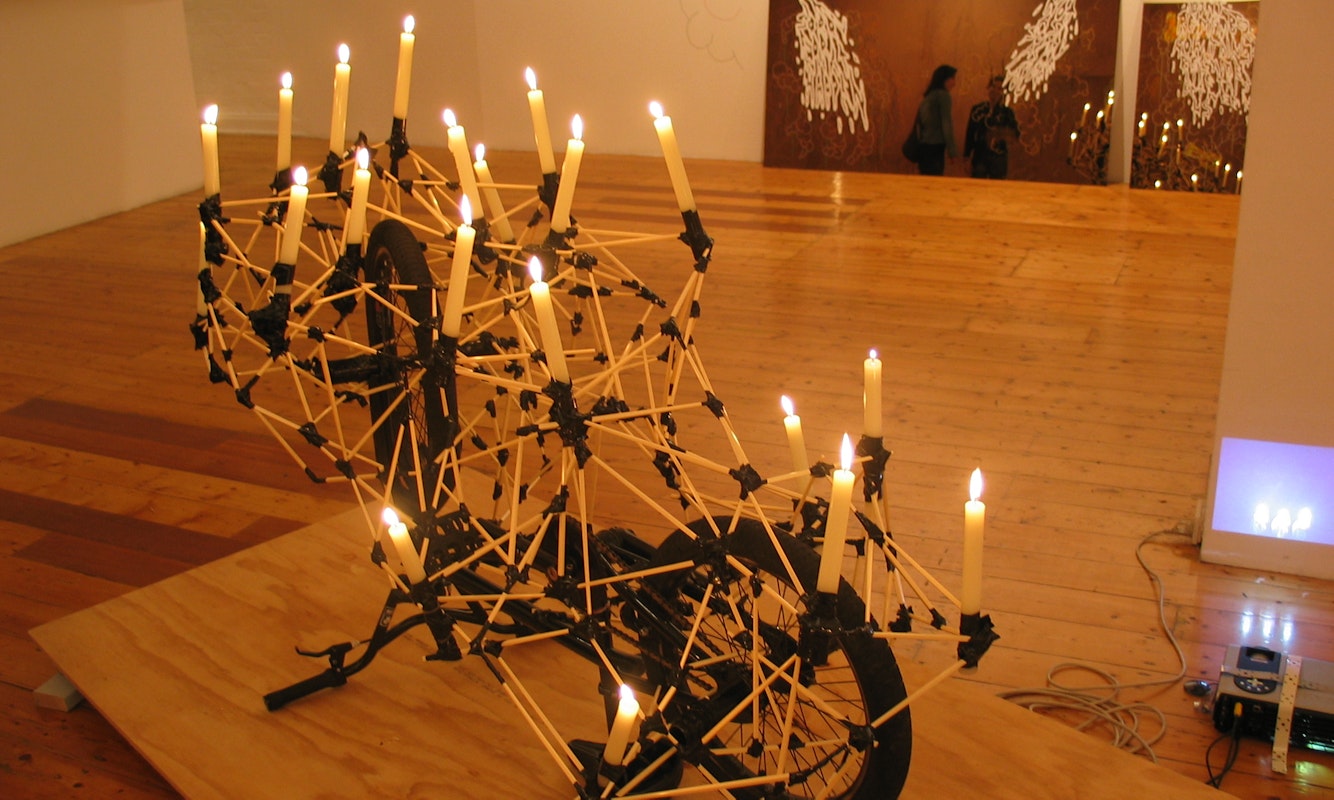 6 May -
28 May 2005
200 Gertrude Street
200 Gertrude Street, Fitzroy
Das Bogus Journey continued Matthew Griffin's exploration of subculture, idolization, myth-making and deviance - mixing pop-cultural and art historical references with a wry sense of humour and an incisive critical eye. The exhibition included a series of large-scale wall drawings, executed in hand-cut vinyl, offset by mirrored panels, life-sized sculptural objects and video projection, creating a shifting field of perspectives which completely envelops the viewer.
Das Bogus Journey explored ideals, ideas and actualities concerning the phenomenon of death - placing this subject matter within a diverse range of pictorial traditions, from images of the apocalypse from the Renaissance period, through to the visual stylings of black metal and hip hop subcultures. Griffin explained, "I have always been interested in the "giving up " associated with drug-induced states, both giving up your state of mind, and also the kind of "fuck the world" attitude...Other characters include subcultural icons such as the Notorious B.I.G, 2Pac, Burzum, Euronymous, G.G.Allen, and Ian MacKaye, spewing forth lamentations of lost life, lost credibility and lost opportunity, whilst mixing happily with my friends and family. The intention is to transform the Gertrude's Gallery into a cross between a panoramic mural and a broken down graffiti riddled crack house/ squat."
The all-encompassing nature of Griffin's installation directly involved the viewer in the exhibition's narrative, and created a compelling environment which was able to addresses one of our culture's greatest fears and taboos. Matthew Griffin completed a BFA (Painting) at the Victorian College of the Arts in 1998. He has held several solo exhibitions including Uplands Gallery, Melbourne 2004; Exhume 2Pac on the one hand, Free Burzym on the other, Dudespace, Melbourne 2004; Livin' La Vida Lowcash, Uplands Gallery, Melbourne 2003; and The Glass Casket, 24seven, Melbourne 2003. Selected group exhibitions include Specimen Show, Domain House, Melburne 2004; Satellite cities and Tabloid Life, Monash University Museum of Art, Melbourne 2004; Something Something Video Something, Artspace, Sydney 2003; and Painting the roses red, Wren Gallery, Sydney 2003.