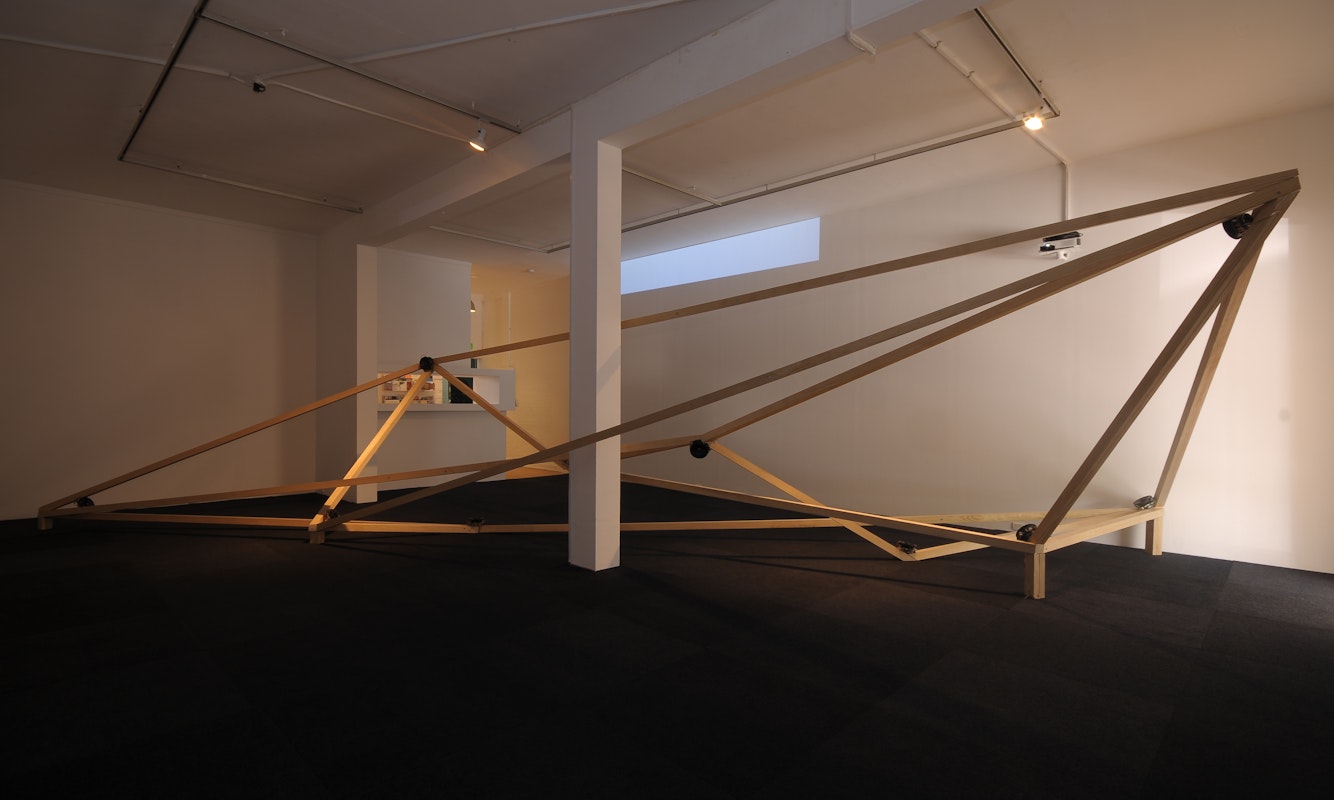 Geoff Robinson, North. At the junction of Inwood Hill Park New York and Jokulsarlon Southeast Iceland , February - May 2008, Gertrude Contemporary, 2009. Photo: John Brash
6 March -
4 April 2009
200 Gertrude Street
200 Gertrude Street, Fitzroy
In 2009, Gertrude Contemporary was pleased to present a major new sound installation by Melbourne artist Geoff Robinson. Robinson's work North was created during a 3-month Australia Council residency in New York in early 2009.

Drawing on field recordings taken within New York and in Iceland, Robinson created a phonic map of the two locations, overlaying their coordinates and abstracting space through sound. The locations and sounds were chosen for their emphasis on movement and transformation and featured recordings taken of a swing bridge, icebergs, ferries and trains, a channel and the ocean. Through selecting two specific sites, (Inwood Hill, Manhattan and Jökulsárlón, Iceland), Robinson was able to map the points of intersection between them and plot these connections spatially within the gallery.

Using a skeletal framework to house speakers that play sounds from particular locations within these sites, Robinson created an aural representation of both Inwood Hill and Jökulsárlón. These phonic maps were then layered within the gallery allowing time and space to concertina, and distance to collapse.

Coinciding with the installation was a performance that involved a scored interpretation of these field recordings. The score was performed by acclaimed Melbourne sound artists and musicians Julie Burleigh, Nathan Gray, Geoff Robinson, Eamon Sprod and Philip Samartzis at Gertrude Contemporary.
Geoff Robinson completed a Masters of Arts (Media Arts) at RMIT in 2003 and has been exhibiting for over 10 years . In 2007 Geoff travelled to Osaka, Japan for a sound-based field recording project and exhibition and travelled to New York from February to May 2008 for the Australia Council Greene Street Studio residency.

[Biographical information current as at April, 2009]