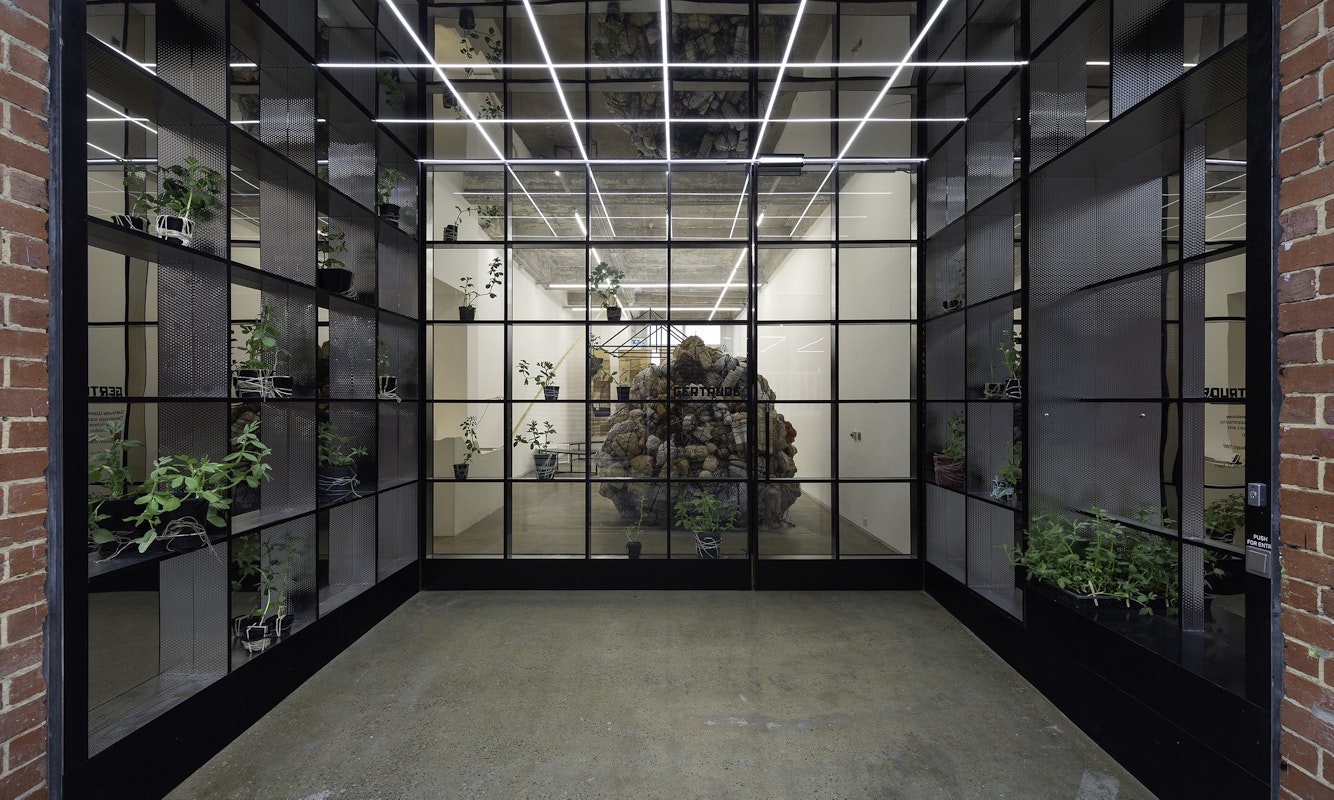 Installation view of Habitat by ShrewD Collective (Chris Fontana, Tracey Lamb, Amanda Laming, Nina Sanadze, Mimmalisa Trifiló), presented at Gertrude Glasshouse, 2023. Photo: Christian Capurro.
8 September -
7 October 2023
Gertrude Glasshouse
44 Glasshouse Road, Collingwood
Opening Event
Thursday 7 September, 5 – 7pm
Gertrude is pleased to announce Habitat by ShrewD Collective, as part of the new Collective Polyphony Festival, founded upon the central idea of community and peacebuilding. Habitat will be presented at Gertrude Glasshouse from 8 September – 7 October 2023.
The collective is comprised of artists Chris Fontana, Tracey Lamb, Amanda Laming, Nina Sanadze and Mimmalisa Trifilò.
Habitat began with an exploration of the storied 'Tower of Babel' concept, in which language is attributed symbolically as the source of division among the world's people. ShrewD Collective has decided to build something positive together, engaging with a process that embodies the universal challenges of communication and mutual understanding.
Bringing together five very diverse visual languages, the artists collaborate to construct new architectural elements using words and conversations, clay, steel, paper, wood, stone, string, fabric, and plants. Habitat stands as an alternative to the Babel Tower; a porous and visually rich space that immerses viewers who can spend time exploring, reading, thinking, sitting, or gathering within.
Habitat serves a dual purpose—it reflects and critiques the current state of the world, while offering hope and ideas for a better society. In this envisioned world, dialogue, communication, and understanding are assumed, challenging the obstacles presented within the Tower of Babel narrative.
The project comes about as Gertrude Studio Artist Nina Sanadze opens her Gertrude Glasshouse exhibition opportunity to the ShrewD Collective, shedding light on their artistic practice and methodologies of fostering mutual support, community cohesion, and collaboration. Staying true to Sanadze's large-scale, peace-building social practice projects, the artist has further expanded this concept into the Collective Polyphony Festival.