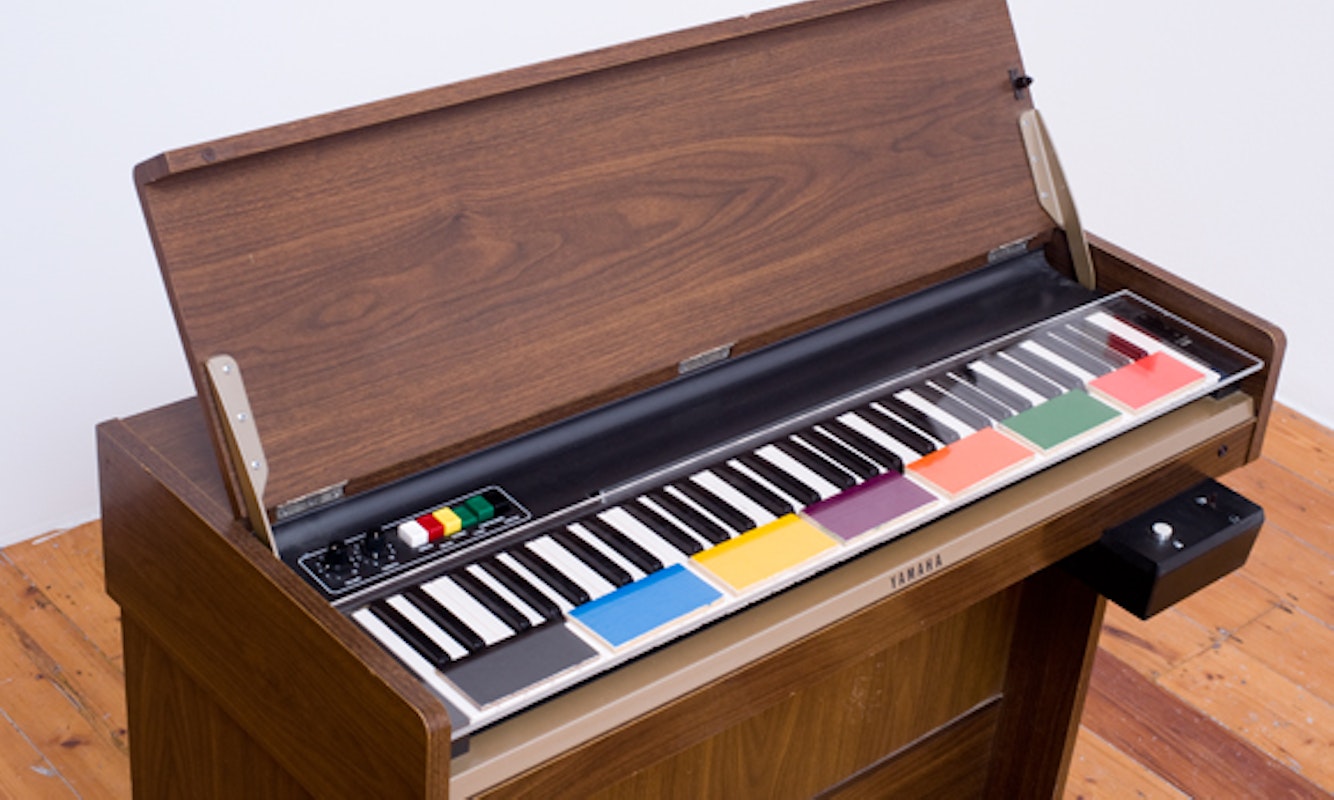 John Nixon, Colour-Music (Music Composition), Painting on Yamaha electric piano with colour coded keys photograph in the artists house, 2008. Courtesy of Anna Schwartz Gallery.
1 June -
30 June 2012
200 Gertrude Street
200 Gertrude Street, Fitzroy
Opening: Friday 1 June, 6–8pm
Gertrude Contemporary was proud to present two major projects by highly regarded Australian artist John Nixon. A solo project in the main gallery space and a group show curated by Nixon in the front gallery space.
MAIN GALLERY: EPW: COLOUR-MUSIC
John Nixon's solo exhibition at Gertrude Contemporary depicted the relationship between his painting practice and his interest in music. Entitled EPW: Colour-Music, the exhibition in the main gallery space was a collection of 25 paintings on board which lined the gallery walls. Forming part of the series entitled 'Experimental Painting Workshop' (EPW), this ongoing project was established by Nixon in the late 1970s. EPW serves as the title to distinguish different sets of formalist inquiries organized into various groups, the largest of which is EPW: POLYCHROME, made up of monochromatic paintings on board and canvas, and this grouping forms the central trajectory of the Nixon's work.

The paintings on exhibition at Gertrude Contemporary, EPW: Colour-Music form part of EPW: POLYCHROME established in 2006. These works are pictorial scores that can be used to generate musical performances based on the organisational codes underpinning the series. This series of paintings is comprised of monochromatic geometric shapes set against a united background structure. The continuous structure operates like a grid or stave on which the shapes are plotted. Whilst presented as a series of paintings in their own right, EPW: Colour-Music also implies function outside the boundaries of pure painting, where abstract painting can conceptually expand to encompass wider spheres for activity and endeavour.

The exhibition also included an installation in which Nixon created coloured-coded blocks that correspond with the paintings and sit over the white notes of a keyboard. The presence of the keyboard in the exhibition space further compels a reading of the works in unison as the tools and language of minimalism, set against a visible graphic score for possible future preceedings.

Halfway through the exhibition, on Saturday 16 June, 4pm there was a concert in the main gallery space where Nixon's paintings were 'performed' by a group of musicians. Each painting contains a coded notational structure, which formed the basis of an interpretative score, that the musicians would play. The Gertrude Ensemble (a group of musicians that had been put together by musician Francis Plagne) collaborated to play the work.
The Gertrude Ensemble comprised:
Francis Plagne - electric piano
Judith Hamann - trumpet
Elizabeth Welsh - violin
Giles Fielke - trombone
Jared David - wine glass and spoon
Luke Sands - electric power saw
Assisted by Renee Cosgrave and Katie Lohner.
John Nixon was born in Sydney 1949. Lives in Briar Hill, Melbourne. First solo exhibition, Pinacotheca, Melbourne (1973). Selected by Germano Celant to represent Australia at Documenta 7, Kassel, Germany (1982). Winner of Clemenger Contemporary Art Award, Melbourne (1999). Recipient of Australia Council Fellowship Award (2001/02). Regular solo exhibitions at: Anna Schwartz Gallery, Melbourne; Sarah Cottier Gallery, Sydney; Goddard de Fiddes Gallery, Perth; Sue Crockford Gallery, Auckland; Hamish McKay Gallery, Wellington; Galerie Mark Muller, Zurich. Since 2000 has held large-scale exhibitions surveying aspects of his work from 1968-2005 at the following museums and galleries: Kunstmuseum Singen, Germany; Kunstmuseum Baselland, Basel, Switzerland; Stiftung für Konkrete Kunst, Reutlingen, Germany; Australian Centre for Contemporary Art, Melbourne; the Art Gallery of Western Australia, Perth; and works from 2006-2007 TarraWarra Museum of Art, Healesville. His work is included in all major State Museum collections in Australia.

FRONT GALLERY: WHITE PAINTINGS
Curated by John Nixon
Artists: Gunter Christmann, Robert Hunter, John Nixon, David Thomas and Karl Wiebke
Opening: Friday 1 June 2012 6-8pm
Exhibition continued to 30 June 2012

Curated by John Nixon, White Paintings was a group exhibition in the Gertrude Contemporary front gallery space. White Paintings included work by John Nixon as well as Melbourne and Sydney-based painters Gunter Christmann, Robert Hunter, David Thomas and Karl Wiebke. Nixon assembled this group of white paintings by peers, colleagues and friends who have shared a discourse around abstract painting since the late 1960s. The work included in White Paintings was drawn from the period 2004 to 2011, representing the ways in which this discourse continues to infiltrate each painter's practice and resonates more broadly in terms of a contemporary engagement with modernism in painting in Melbourne. As Nixon suggests "…it seems to me that white painting, historically a kind of tabula rasa, represented a stand against all other types of painting as subject and as scene. Simplicity, minimalism, the monochrome and a sense of making something out of nothing are integral to painting in white". The exhibition represents Nixon's ongoing research into white paintings from the beginning of last century by Malevich through to two key exhibitions in Melbourne held at the National gallery of Victoria: Two Decades of American Painting, (1967) and The Field (1968), and through to today.

For White Paintings at Gertrude Contemporary, Nixon focussed on paintings that are comprised of white paint rather than wall-mounted works constructed from other types of materials. Regarding his selection, Nixon states "The five works include examples of figure/ground composition; all-over non-composition; faceted and mathematically precise structure; and constructed painting with wood on canvas. Some paintings use different shades of white, others only one. In each case, the artist has made a conscious choice to use white on canvas, fabric or other material support as the basis for their abstract work (therefore not cream, grey etc. or black and white). In some cases the white colour may be painted onto a coloured ground, e.g. linen, plywood etc.". White Paintings was the first project in what Nixon hoped to be a series of curated exhibitions.