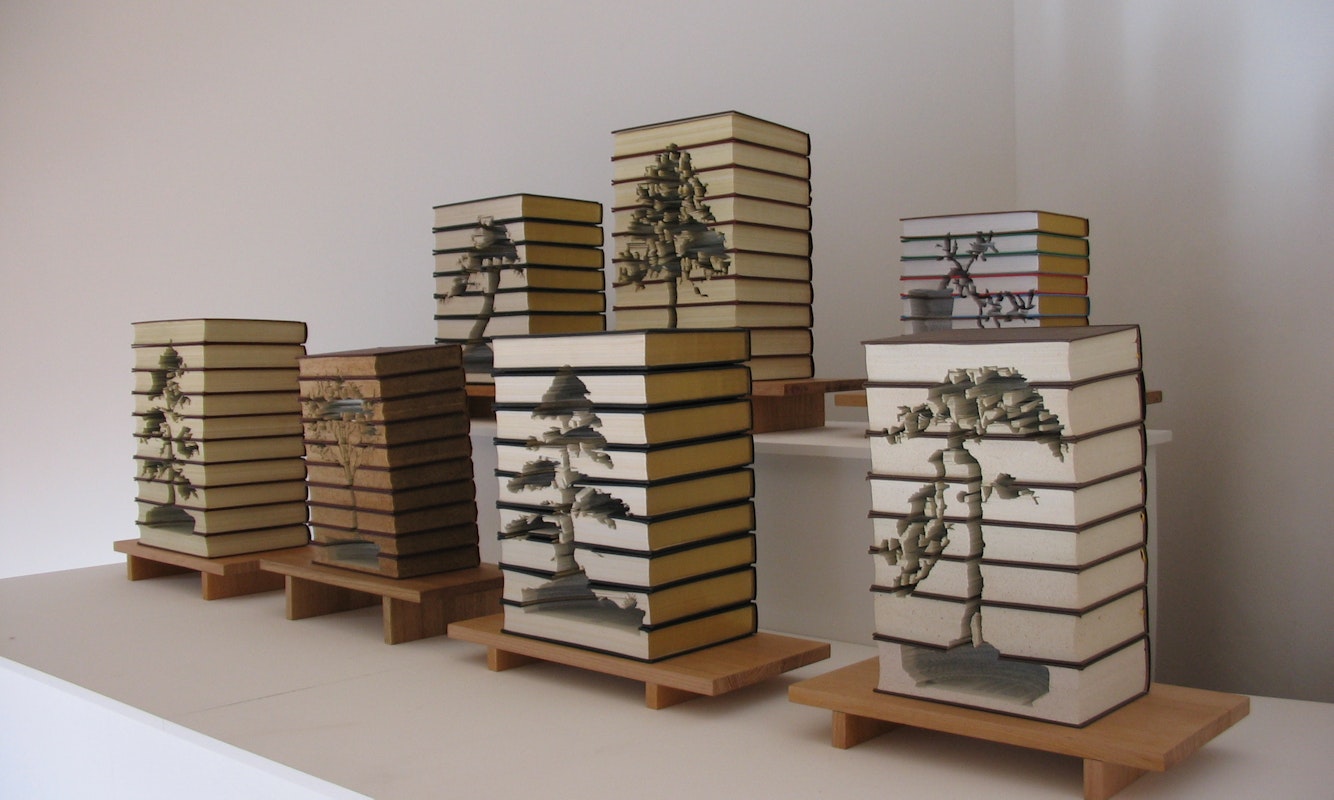 10 June -
2 July 2005
200 Gertrude Street
200 Gertrude Street, Fitzroy
The Informal Garden was an enchanting and skillfully-crafted exhibition by Melbourne-based artist Kylie Stillman. The exhibition comprised two distinct, but connected series of work: a collection of stacks of books, into which the impressions of bonsai trees had been carved to scale; and a series of open books which bear the impression of a variety of carefully-rendered bird species. Stillman has said of her work: "Like the experience of visiting a zoo enclosure – not knowing whether to look for a well-camouflaged animal, or give up assuming the enclosure is in fact empty – the viewer is encouraged to form personal narratives that reflect on how the objects were made, and the type of 'character' for which they are designed. The viewer may begin to ponder the function of the altered object – is it a memorial to a plant that once existed, a smuggling device for a precious species, a botanist's tool, or an object a child uses for keeping secret pets…" In this way, The Informal Garden created an intriguing sense of narrative through its careful interplay of presence and absence.
Kylie Stillman completed a BFA Honours (Painting) at RMIT University in 1999. Stillman has held several solo exhibitions including The Informal Garden, Utopia Art Sydney, Sydney 2005; Semiformal, Platform, Melbourne 2004; and Park Views, CLUBSproject, Melbourne 2003. Selected group exhibitions include Uncanny (The Unnaturally Strange), Artspace, Auckland, NZ 2005 (forthcoming); National Works on Paper Award, Mornington Peninsula Regional Gallery, Melbourne 2004; and Compendium, Platform, Melbourne and IKON Museum, Melbourne 2004. Stillman received an Australia Council grant for New Work in 2004. Kylie Stillman is represented by Utopia Art Sydney.
Supported by the Ausralian Council.