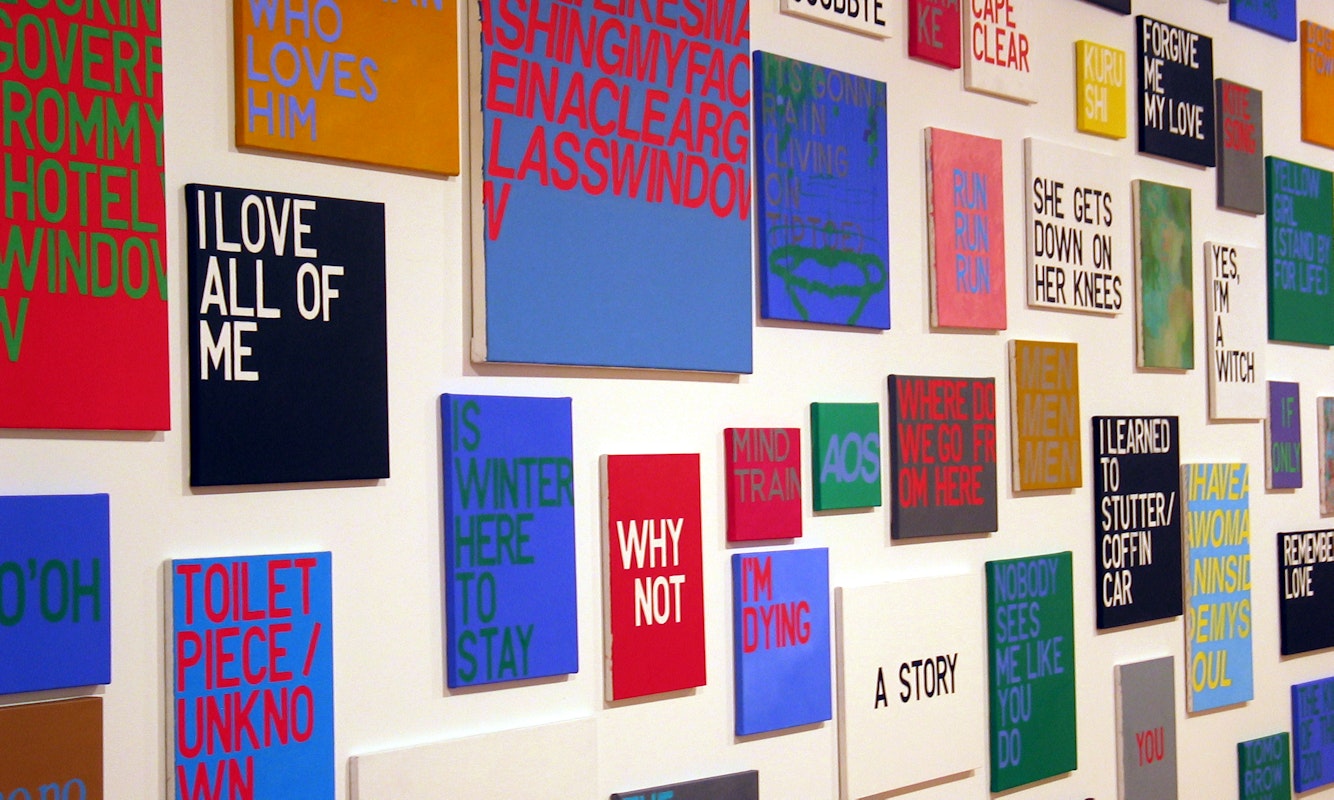 4 March -
24 March 2005
200 Gertrude Street
200 Gertrude Street, Fitzroy
"A complex game of erasure and value is in play in Maria Cruz's series of Yoko Ono Song Titles. Conceptuality is at its limit, tested against an often scintillating and always painterly sensuality…" Anne Finnegan 2004.
GIVE ME SOMETHING was Sydney-based artist Maria Cruz's first solo exhibition in Melbourne. An ambitious and open-ended series of work, GIVE ME SOMETHING transcribed the titles of individual Yoko Ono songs into around 150 paintings, which were installed en-masse on the Main Gallery walls of 200 Gertrude Street. A dazzling investigation into the relationship between language, visuality and meaning, the installation presented a deceptively simple, yet thought-provokingly loaded visual field.
Maria Cruz studied Fine Arts in The Philippines before moving to Australia. She pursued further studies at East Sydney Tech, Sydney College of the Arts throughout the 1980s and lived in Germany where she attended the class of Prof. Klaus Rinke at the Staatliche Kunstakademie in Duesseldorf. Cruz has held numerous solo exhibitions including No, No, No, Penrith Regional Gallery, Sydney 2004-5; Nothing In This World, Kaliman Gallery, Sydney 2004; Homesick, Palettes, Sarah Cottier Gallery, Sydney 2002; and Hard Times are Over, Sarah Cottier Gallery, Sydney 2001 and at Mori Gallery, Sydney in 1990,1991,1992,1995. Selected group exhibitions include Freespace, Provincaal Centrum voor Beeldende Kunsten Hasselt, Belguim 2002; Painting as Paradox, Green Street Artists Space, New York 2002; and Art > Music, Museum of Contemporary Art, Sydney 2001. Cruz has also presented work as a member of the Shangri-La Collective, and is a founding member of The Believers (with Mikala Dwyer and Anne Ooms). In addition, Cruz has been a recipient of numerous awards and residencies, including the Asialink Residency, The Philippines (2004), PS1 International Studio Program, New York (2000-01), Australia Council Artist Development Grants (1998, 2000), and the Portia Geach Memorial Prize for portraiture (1998). Maria Cruz is represented by Kaliman Gallery, Sydney.