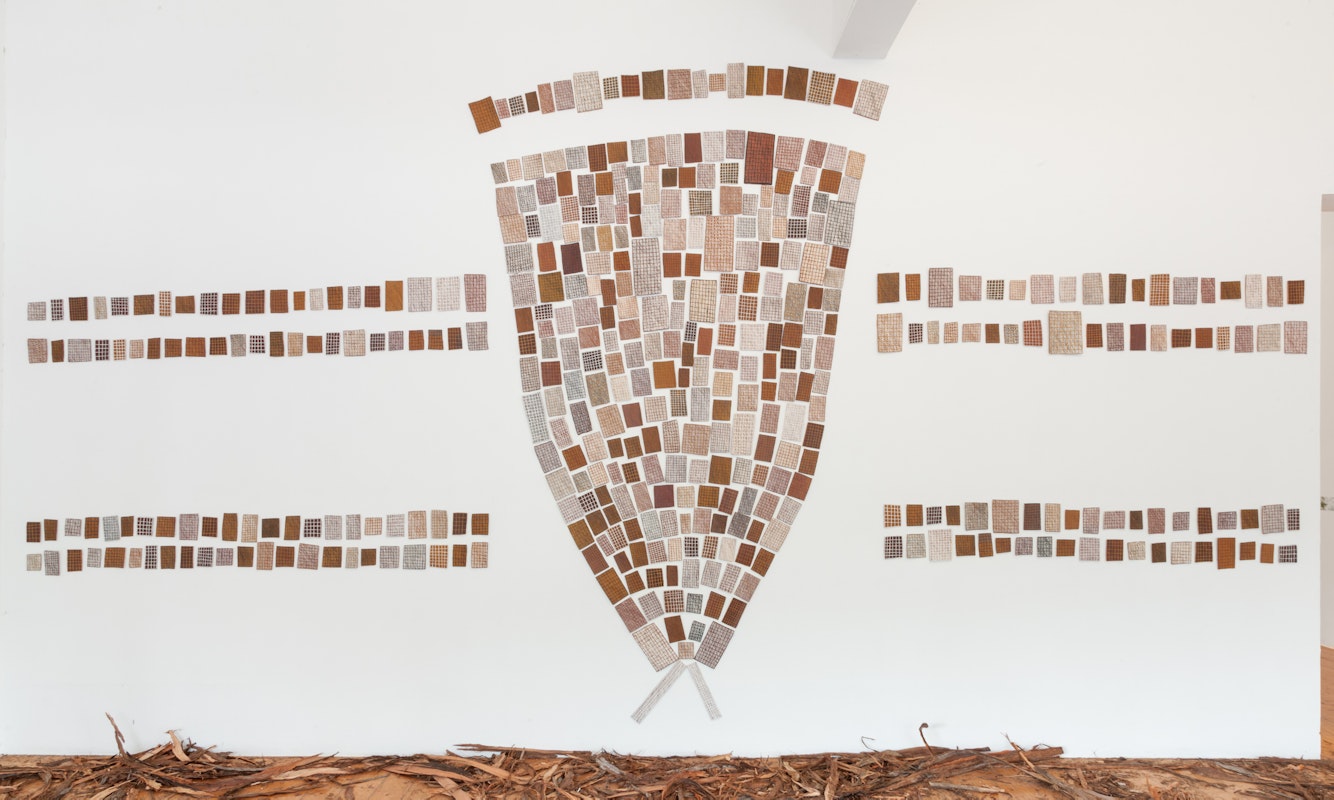 Marrnyula Mununggurr, Ganybu, 2015, installation at Gertrude Contemporary.
31 January -
14 March 2015
200 Gertrude Street
200 Gertrude Street, Fitzroy
Opening: Friday 30 January, 6–8pm
Marrnyula Mununggurr presented a new body of work, Ganybu — a vast matrix of 252 small bark paintings and one larrakitj, each of which depict the artist's Djapu clan design, the fishtrap that caught Mäna (the ancestral shark) at Wändawuy in North East Arnhem Land. Mununggurr's grids painted in natural ochres reference the topography of Wändawuy itself, striated by billabongs, high banks and ridges, as well as the structure of the fishtrap itself. The grid of the fishtrap, ganybu, was iterated in the negative spaces between the small barks hung en masse on the gallery wall — an invisible or camouflaged grid, as the trap appears to freshwater fish.
Mununggurr also undertook a short Studio 18 residency between the 26th of January and the 2nd of February, during which time she gave painting and Yolngu string figure demonstrations.
Mununggurr's exhibition and residency marked the beginning of a new partnership between Buku-Larrnggay Mulka Centre and Gertrude Contemporary, which facilitated the exchange of artists, curators and exhibitions between the art organisations in Yirrkala and Melbourne.
Discussion with the artist was at 1pm Saturday 31 January 2015.
Mununggurr (b. 1964, Yirrkala) is a Djapu woman of the Dhuwa moiety, a senior printmaker and artist at Buku-Larrnggay Mulka Centre. Recent exhibitions include: Making it New — A Survey of Contemporary Art, MCA, Sydney, 2009; 17th Biennale of Sydney — The Beauty of Distance, MCA, Sydney, curated by David Elliott, 2010; Djalkiri; We are standing on their names, Nomad Art, 24-Hour Art, Darwin Festival, 2010; and the Telstra NATSIAA, Museum and Art Galleries Northern Territory, Darwin, 2010. Her work is represented in numerous national and international collections, including the National Gallery of Australia, Canberra; MAGNT, Darwin; JW Kluge Collection, Virginia, USA; National Maritime Museum (Saltwater Country — Bark Paintings from Yirrkala), Sydney; Sydney Opera House, Sydney; University of Woolongong, NSW; Singapore Art Gallery, Singapore; the Holmes a Court Collection, and the Kerry Stokes Collection, both Australia. In 1994, Mununggurr was awarded the Best Painting at Barunga Festival Art Awards, and in 2002 received an Honourable Mention in the Michael Long Testimonial Art Award.
To view the exhibition catalogue, please Click Here.