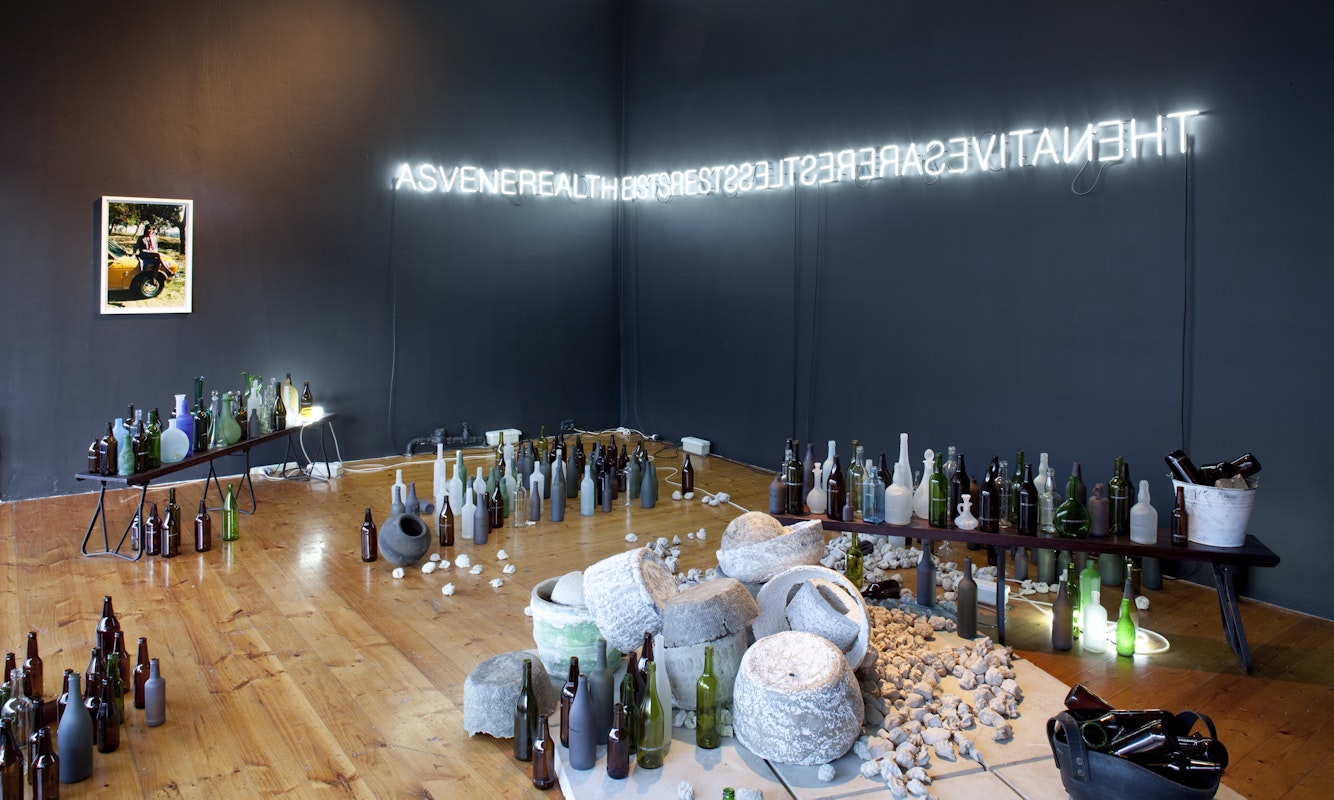 Newell Harry, Alms & Psalms: The Unspoken Requiems of Henry Waller, 2009, installation at Gertrude Contemporary. Image courtesy of the Gertrude Contemporary archives.
26 June -
18 July 2009
200 Gertrude Street
200 Gertrude Street, Fitzroy
In 2009, Gertrude Contemporary was pleased to present this new exhibition by Sydney-based artist Newell Harry.
Beginning with the phrase 'the natives are restless', Harry referenced the cultural agitation bought about by colonial migration. In this exhibition he referred to the island castaway as a metaphor to express the complexity in his discussions of identity, nomadism, dislocation and the myths associated with sea trade and colonial adventure.
As Harry has stated, "The castaway is an apt metaphor for the artist, or at least I see it that way in terms of my own sense of narrative, place and family history. Like the castaway, dislocation, exile and exclusion signify a removal, not by choice, but by sheer coincidence and in the case of my family, an escape from the political oppressions of Apartheid. Like the artist, the castaway's position also is one of an enforced self-sufficiency, labour and adaptability; a realm where humility is paramount and behaving like king shit of turd island is out of the question."
Typically Harry's work has drawn in some way from his own mixed ancestry - his mother is from port city of Cape Town, and he has Mauritian blood among other cultural affiliations. This jumbled ancestry is indicative of humanity's restless movement along the trade routes, embodying in it the many narratives of colonial commerce, the slave trade, diaspora, - inter-marriage and the merging and dividing of race and culture. Harry's work has reflected the history of this human movement, exploring the myriad motivations for migration, conjuring tales of escape from conflict, the quest for booty, or following the optimism of the prospector.

In this exhibition, Harry continued his work with anagrams. He dissected and reorganised the term 'The natives are restless', so that it morphed into 'The artless native seers' or 'As venereal theists rest' presenting an analogy for the infinite combinations of circumstance, skin, cultures and of beliefs that are the spin off from colonial migration.
Using a motley assortment of sandblasted bottles engraved with anagrams, place names and un/known 'Coloured' identities such as Capetonian gang lords, musicians, fashion models and black porn stars, Harry conjured up the romance of the message in a bottle as well as the underworld adventures of mutineers, pirates and rumrunners during prohibition. Here, a play on the history of booze as 'currency' took on skewed interpretations.
In this textured, sprawling exhibition, Harry explored the concept of heritage - both real and imagined, spinning and riffing on the mythologies of cultural association.
Newell Harry received his MFA University of NSW (2004) and has undertaken residencies in Paris and Cape Town. He is represented by Roslyn Oxley9 Gallery, Sydney
[Biographical information current as at August, 2009]