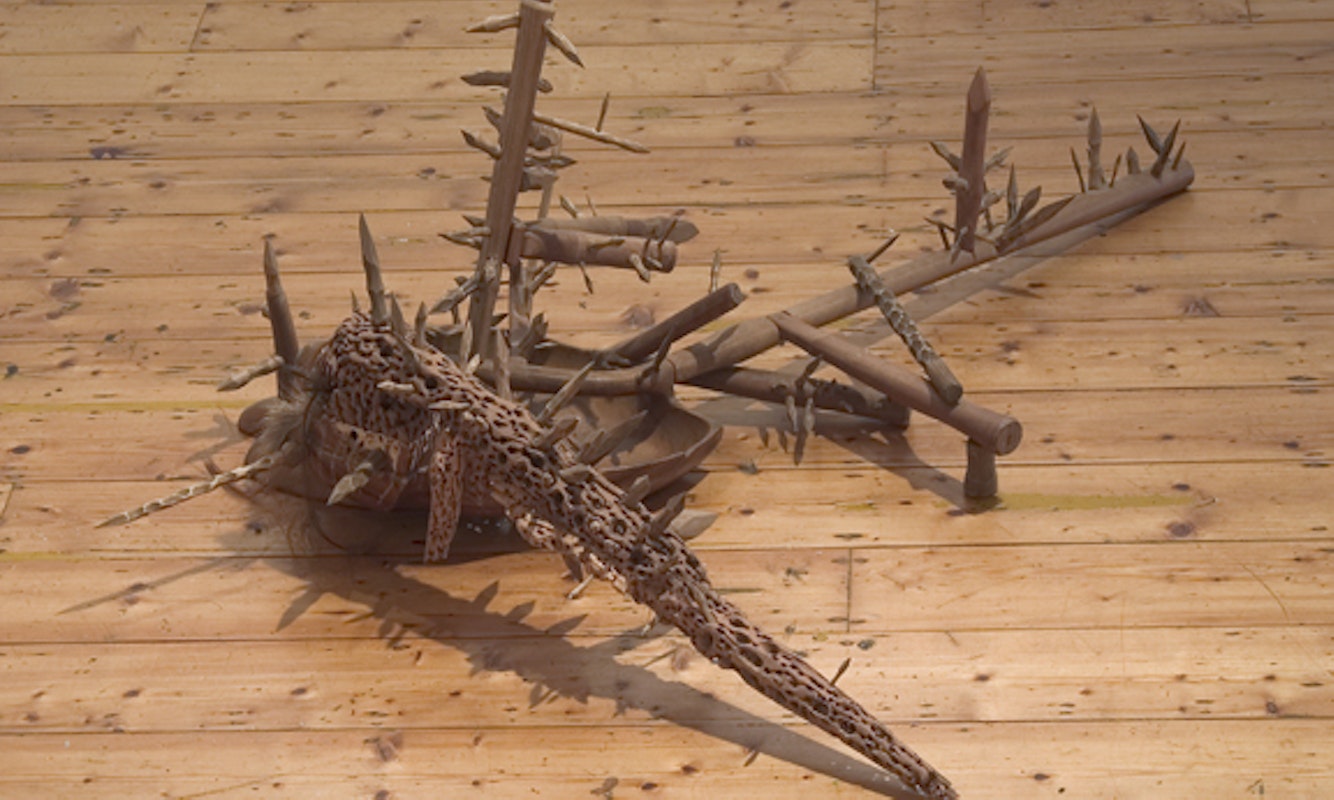 Installation view of Nick Mangan, 'The Colony', at 200 Gertrude Street, 2005.
2 September -
1 October 2005
200 Gertrude Street
200 Gertrude Street, Fitzroy
Gertrude Contemporary presented The Colony, a major solo exhibition by Melbourne artist Nick Mangan. The Colony encompassed a series of mass-produced objects rendered in wood - a bowl, a drum, a sideboard, and an antenna which appeared to have undergone a dramatic process of transformation. Overgrown with strange markings, new appendages and crystalline forms, the wooden structures had become the nexus for a new kind of life. But what kind of colony was this? Helen Johnson wrote of the work, "Looking at this structure, it seems as though these objects are reclaiming a function, a validity which, importantly, is not defined by their relationship to humans. Here is a collection of kitsch, working in conjunction with an object of pure function 'an aerial' to form the basis of a life-supporting system." The Colony presented as a striking and multi-layered exhibition, in which a complex matrix of aesthetics and politics provides a meditation on the fraught relationship between nature and humanity. Nick Mangan completed a Bachelor of Fine Arts at the Victorian College of the Arts in 2001. His solo exhibitions include In the crux of matter, Sutton Gallery, Melbourne 2003; The Obolus, Studio 12, Gertrude Contemporary Art Spaces 2002; and OBTX4Plastralwallmold, Penthouse and Pavement, Melbourne 2001. Selected group shows include 2004: Australian Culture Now, National Gallery of Victoria and Australian Centre for the Moving Image, Melbourne 2004; Primavera, Museum of Contemporary Art, Sydney 2004; 2004 National Works on Paper, Mornington Peninsula Regional Gallery, Mornington 2004; and vecu, Conical, Melbourne 2003. Nick held a studio at Gertrude Contemporary Art Spaces from 2001-2002, and received an Arts Victoria grant for new work in 2003. Nick Mangan is represented by Sutton Gallery, Melbourne.