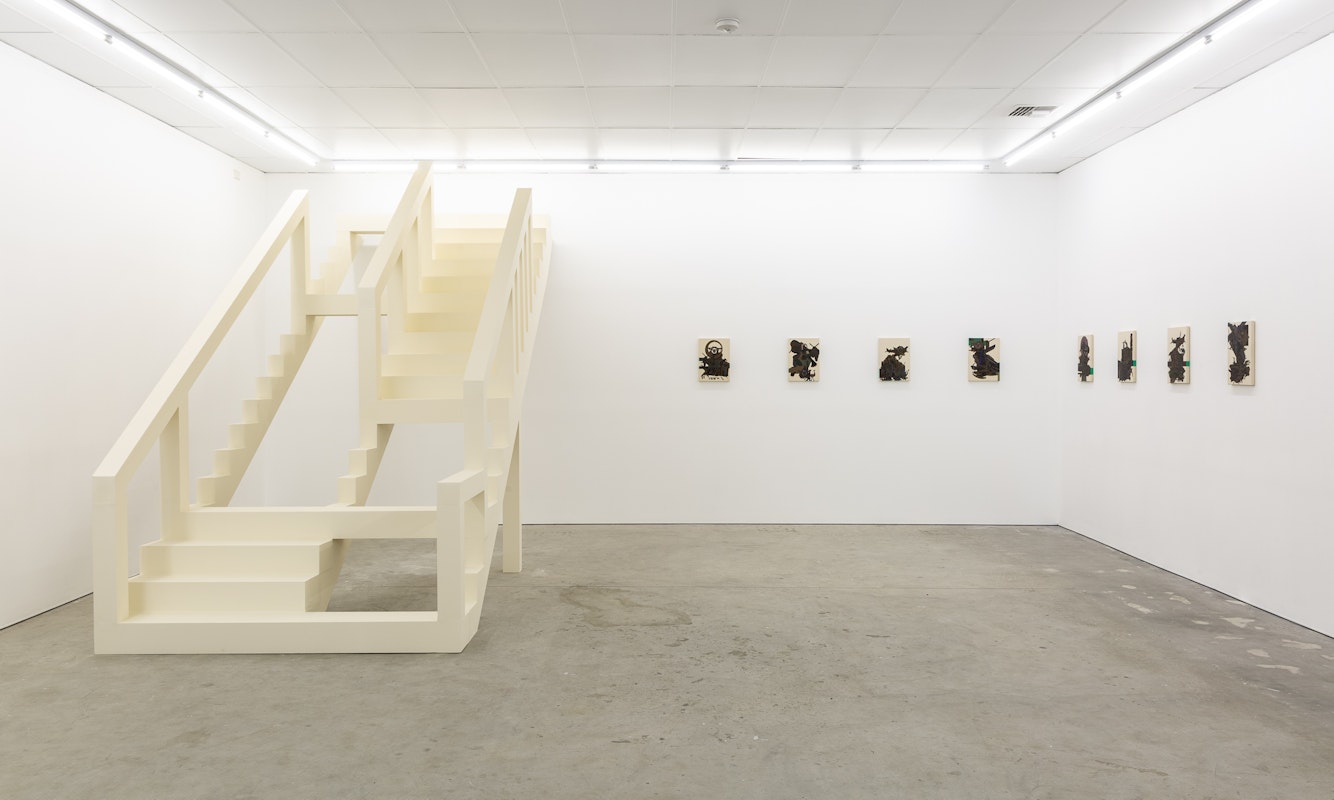 Raafat Ishak, 2018, Chicken River, installation at Gertrude Contemporary. Photo: Christo Crocker.
30 June -
5 August 2018
Gertrude Contemporary
21-31 High Street, Preston South
Foundational within Raafat Ishak's practice is an interest in and knowledge of Arabic and Western art histories, and the evolving contemporary collisions and mutations through migration and points of conflict. Through painting, drawing and installation, Ishak has created a unique visual language that explores concepts of cultural intersectionality, recontextualising cultural motifs from the Middle East and the West to reflect upon a more porous global context, yet one still marred by ideological differences. For his project at Gertrude, Ishak continued this interest in cultural transference and the collapsing of historical temporalities, constructing a staircase through the gallery ceiling, enraptured by a suite of paintings that examine an imaging of the 19th century classical revival in Athens and mid 20th century Australian warplane industry.

Selected recent exhibitions include: 100 Masterpieces of Modern and Contemporary Arab Art, The Barjeel Collection, Institut du Monde Arabe, Paris, 2017; 1977, Sutton Gallery, Melbourne, 2017; Painting, More Painting, Australian Centre for Contemporary Art, Melbourne, 2016; Shifting Geometries, Embassy of Australia, Washington DC, 2012; The Other's Other, Artspace, Sydney, 2012; The Future of a Promise, Venice Biennale, 2011; NEW10, Australian Centre for Contemporary Art, Melbourne, 2010; Raafat Ishak: Work in Progress, Ian Potter Museum of Art, Melbourne, 2010; Cubism and Australian Art, Heide Museum of Modern Art, Melbourne, 2009; and the 6th Asia Pacific Triennial of Contemporary Art, Queensland Art Gallery / Gallery of Modern Art, Brisbane, 2009. Rafaat Ishak is represented by Sutton Gallery, Melbourne.