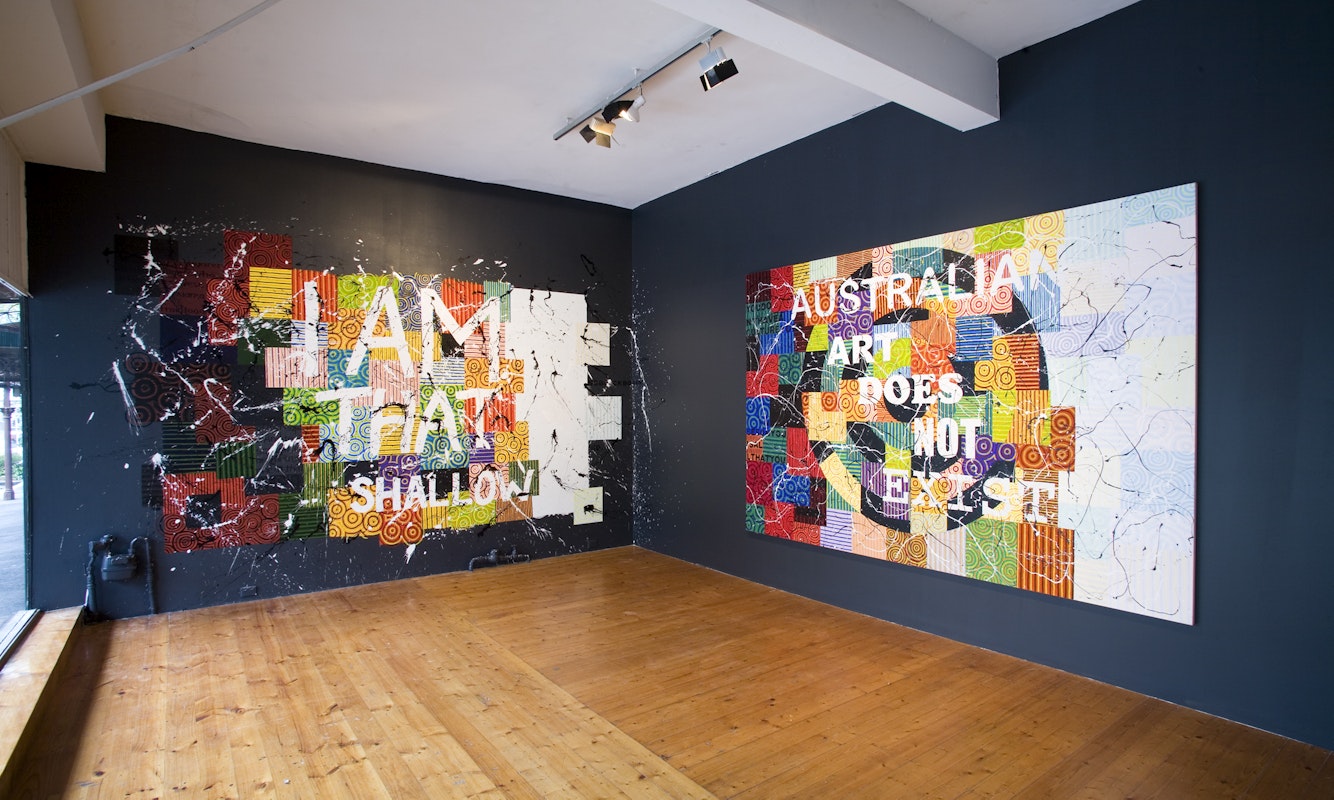 Installation view of Richard Bell 'Window Shopping' at 200 Gertrude Street
18 April -
17 May 2008
200 Gertrude Street
200 Gertrude Street, Fitzroy
Gertrude Contemporary presented new work by acclaimed Brisbane-based artist Richard Bell. Bell's provocative paintings and videos are imbued with a caustic wit that hits directly at the centre of the complex relationship between Aboriginal art and the Western art world.
In his work Bell offers a critical context for the discussion of a range of issues, including the appropriation of indigenous ideas and aesthetics, power relations within the art world, as well as feeding into a wider discussion about the legitimacy and legality of European colonisation.
In 2003 Richard Bell was the recipient of the 20th Telstra National Aboriginal and Torres Strait Islander Art Award. For this award Bell created a text work entitled Scientia E Metaphysica (Bells Theorem) , that read "Aboriginal Art. Its a white thing". This work, along with the t-shirt he wore to the awards which stated "white girls can't hump", caused a furore that was fuelled by the publication of Bell's Theorem of Aboriginal art: it's a white thing. This text can be seen as a manifesto outlining Bell's uncompromising stance on the assimilation/exploitation of indigenous art in the canon of western art.
For Window Shopping at Gertrude Contemporary, Bell has created three new works. These works address similar concerns relating to the commodification of indigeneity in the western art market, as well as drawing attention to frustrations and grievances brought about through the European colonisation of Australia.
Bell, who belongs to the Kamilaroi, Kooma, Jiman and Gurang Gurang peoples, has had a distinguished career spanning the past twenty years. During this time Bell has become an internationally recognised artist who has exhibited his work in significant exhibitions including The Independence Project, GALERI PETRONAS, Malaysia, 2007; Dreamtime: The Dark and the Light, Sammlung Essl, Austria (2001); The New Republics, Australia, England, Canada, South Africa (1999-2000); True Colours, London, Liverpool, Leicester, Perth, Sydney (1994-1995); Australian Perspecta, AGNSW, Sydney (1993); Aratjara, Dusseldorf, London, Humelbaek (1993); Australian Aboriginal Art, Bomani Gallery, San Francisco (1992); 9th Sydney Bienalle, Sydney (1992). He has also featured in exhibitions at the Art Gallery of New South Wales, the National Gallery of Australia, and the National Gallery of Victoria. His work is in major national collections throughout Australia and New Zealand. Richard Bell is represented by Milani Gallery, Brisbane