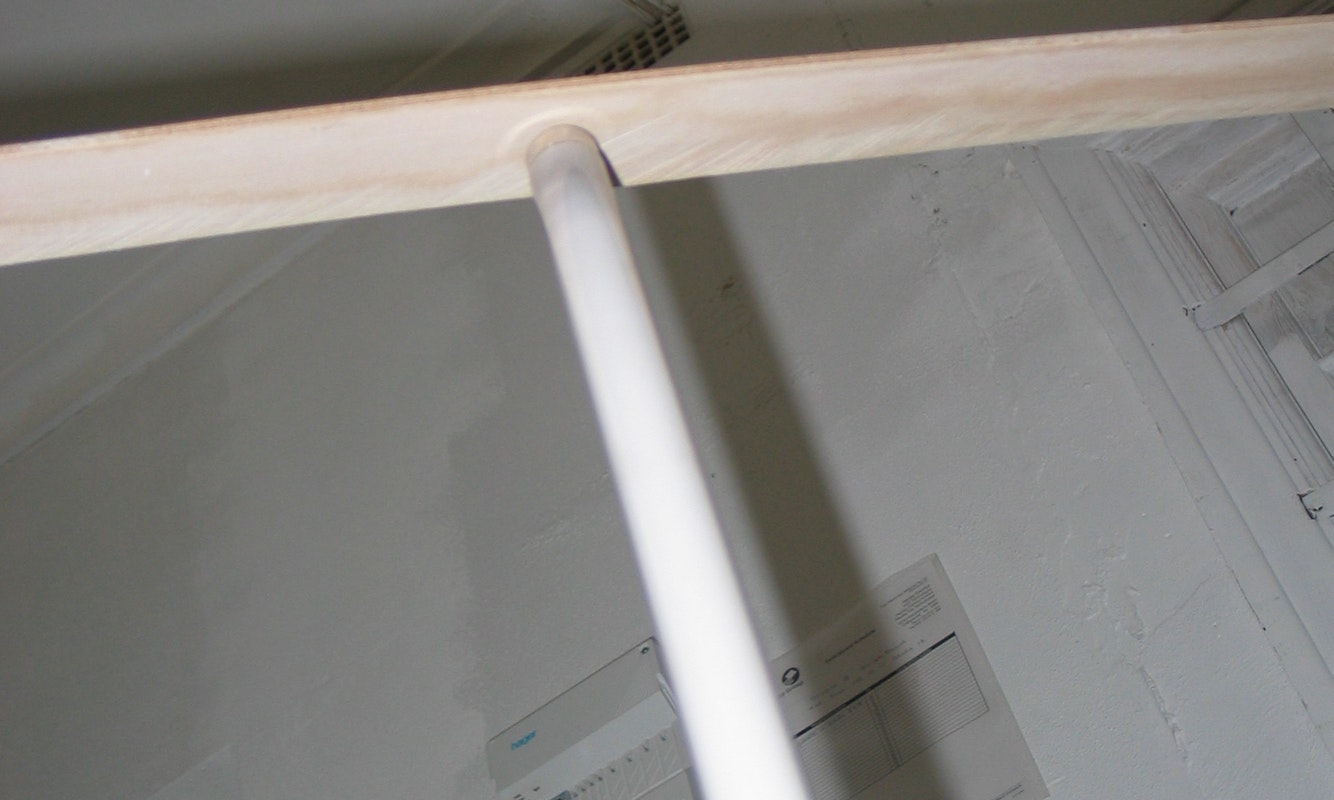 7 July -
19 August 2006
Studio 12
200 Gertrude Street, Fitzroy
In 2006, Gertrude Studio artist Simon Horsburgh presented a subtle and nuanced exhibition which quietly but powerfully inhabited Studio 12. Horsburgh's installation presented a minimal sculptural assemblage which was nonetheless captivating in its elegant simplicity and spatial dynamism. A wooden ski, balancing precariously atop a fluorescent light tube, gently swayed in response to the viewer's presence, and the disturbance in the air generated around them. This fragile sculpture presented an unlikely pairing of objects which nevertheless resonated with a sense of sculptural and material harmony. Much of Horsburgh's preceding practice had been concerned with the sculptural attributes and poetic properties of everyday and domestic objects. Through simple, often minimal interventions in these found objects, Horsburgh draws out their latent qualities, resulting in strongly evocative works which invite us to reconsider our relationship to the materials which comprise our everyday world, and their relationship to each other. Simon Horsburgh says of his practice: "I am interested in the practice of sculpture as a flexible, shape-shifting presence, which can synthesize any encounter, tactile or otherwise. At present, my work is informed by the latent poetry of ordinary things and material reality, and it is inspired by the notion that the relationship between such 'things', can be the 'thing' itself. It is multi-disciplinary, underpinned by a hands-on sensibility and a playful conceptualism, and explores the potential that this kind of artistic plurality can facilitate: an open dialogue between objects, images, materials, spaces and ideas."
Simon Horsburgh recently completed a Master of Fine Art by research at the Victorian College of the Arts. He has exhibited in solo and group shows throughout Melbourne, including at Conical; Temple Studio; Linden; Craft Victoria; West Space; and First Floor, as well as Downtown Art Space in Adelaide and Han Jeon Gallery in Seoul, Korea. In 2002 Horsburgh was included in Octopus 3: Still Time at Gertrude Contemporary Art Spaces. He was a committee member of artist run initiative West Space for four years and has been a recipient of an Arts Victoria Cultural Exchange Grant and an Australian Postgraduate Award.
Studio 12 Exhibition
Simon Horsburgh: Studio Artist 2005-2006.