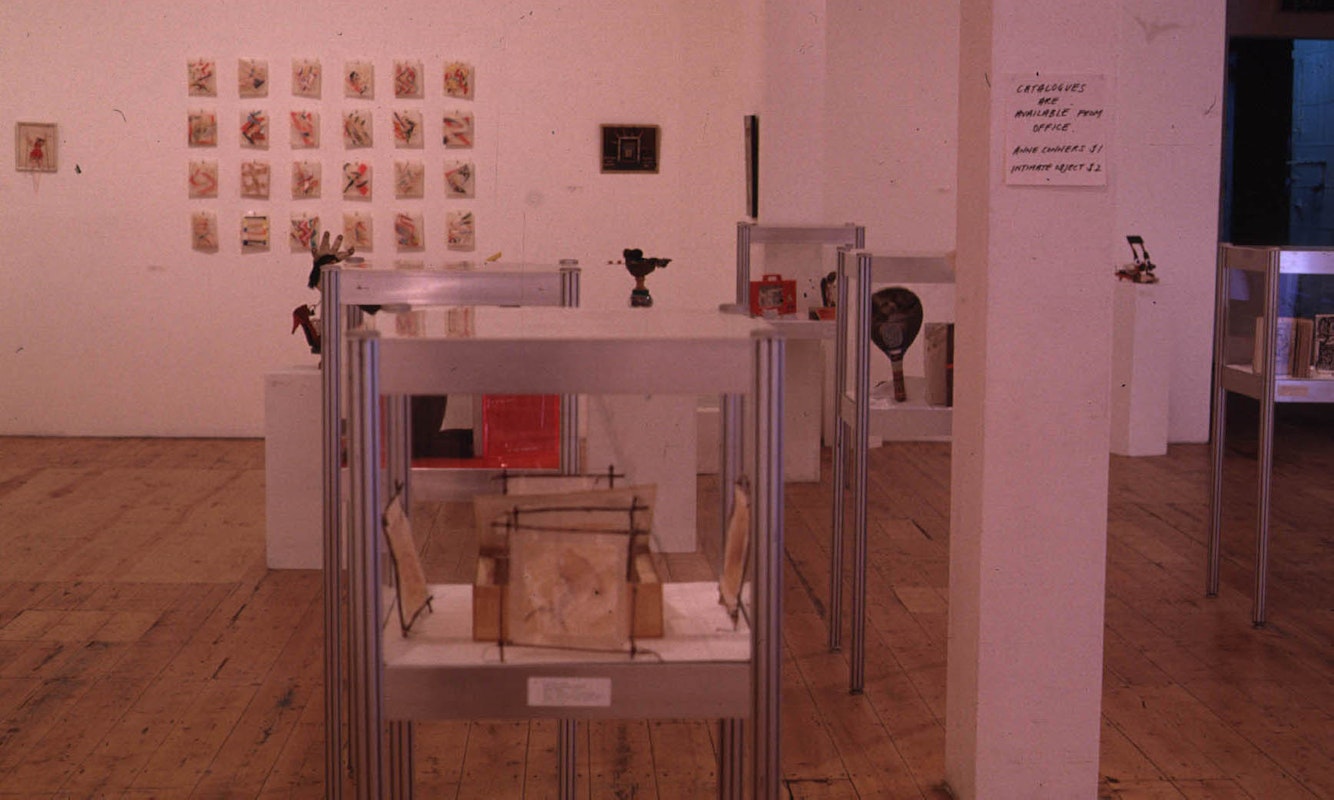 Installation photo of 'The Intimate Object', curated by Peter Ellis and Jon Cattapan, in 200 Gertrude Street, 1989.
4 February -
25 February 1989
200 Gertrude Street
200 Gertrude Street, Fitzroy
Curatorial Statement by Peter Ellis and Jon Cattapan, 1988
The Intimate Object
Legend speaks of stories of the hunters and gatherers that populated our long distant past. Within the tribes of pre-history there were also those members in each community who were less successful at these activities and who began to adopt differing roles. Some would remain behind to fashion objects of a sacred or symbolic nature, while others constructed "toys" to amuse children, or created gifts for loved ones. The Intimate Object is dedicated to those "failed hunters".
We have attempted here to show an insight into the unseen private production of a number of artists away from their "gallery personas".
The works themselves may be read as "gifts" and as such are often very private. The ephemeral nature of some of the pieces and their consequent fragility seems to reinforce the idea of a private dialogue between maker and recipient. Often there is a sense of altruism, while occasionally the devotion of ex-voto art1 is recalled (in a non-religious way).
A number of the pieces evoke the spirit of the surrealist object2, essentially an amalgam of assemblage, collage and found objects chosen for their poetic or intellectual "meaning". Some works reveal the secrets of the artist's diary. There is also at work however, a spirit of playful "ribbing" that equates strongly to making something purely and simply for fun.
Our aim in collecting together these "intimate objects" for a wider audience is to demonstrate the pleasure gained in investigating the mystery of objects and the magic of friendships.