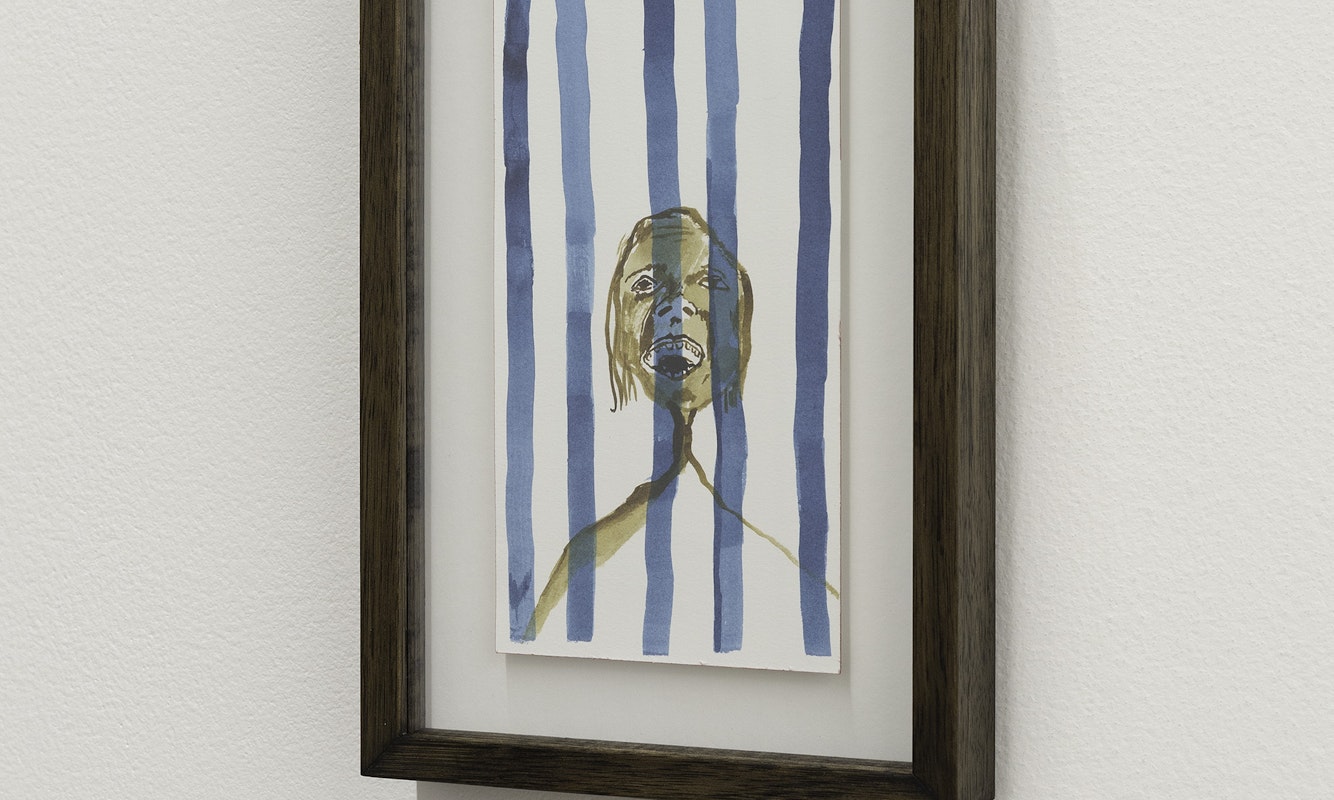 Installation view of Mia Boe, 'Going Insein', presented at Gertrude Glasshouse, 2023. Photo: Christian Capurro
Artist Talk
Saturday 26 August 2023, 6:00am
Gertrude Glasshouse
44 Glasshouse Road, Collingwood
Artist Mia Boe and guest speaker artist Ma Ei joined Gertrude Curator in Residence Amelia Winata for a discussion on the occasion of Boe's solo exhibition Going Insein at Gertrude Glasshouse. Boe, Ma Ei and Winata discussed some of the themes of the exhibition, which serves as a study of the carceral conditions of political prisoners of Insein Prison အင်းစိန်ထောင် in Myanmar/Burma.
Ma Ei discussed her own practise, experiences in Myanmar/Burma after the 2021 coup and widespread fear of the prison.
Mia Boe is a painter from Brisbane, with Butchulla and Burmese ancestry. The inheritance and 'disinheritance' of both of these cultures focus her work. Mia's paintings respond, sometimes obliquely, to Empire's deliberate, violent interferences with the cultural heritages of Burma and K'gari.
Ma Ei (1978) holds a Bachelor of Science (Physics) from East of Yangon university and works across painting, installation, photography and performance art. Ma Ei has participated in the Hong Kong & Myanmar Performance art exchange, 12th AsiaTopia International Performance Festival (Thailand), PanAsia International Performance Festival (Korea), The Longest Day Performance Festival (Switzerland), ZAZ Performance Festival (Israel) and participated in contemporary artist residencies and programs in London, Sweden, USA, Japan and Australia. In 2021, Ma Ei presented work in the 10th Asia Pacific Triennial of Contemporary Art Exhibition at QAGOMA, Brisbane.
Amelia Winata is the Curator in Residence at Gertrude Contemporary. She is also an editor of Memo Review and Index Journal.