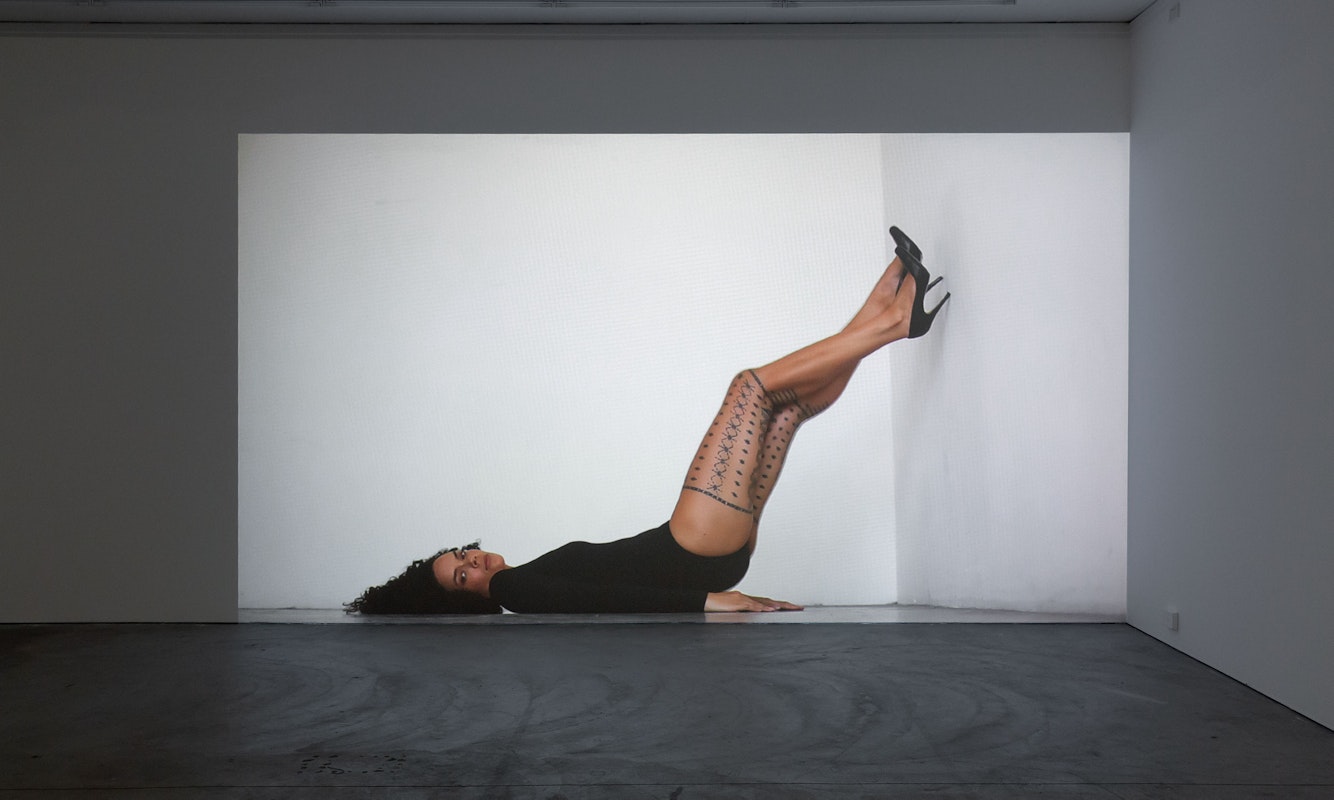 Installation view of Polyphonic Reverb curated by Mark Feary, featuring work by Angela Tiatia presented at Gertrude Contemporary 2022. Photo: Christian Capurro.
Panel discussion
Saturday 13 August 2022, 5:00am
Gertrude Contemporary
21-31 High Street, Preston South
On the final weekend of Polyphonic Reverb, Gertrude is pleased to present a panel discussion contextualising and elaborating on themes of Pacific identity and representation, cultural knowledge, care and connection. Bringing together a cast of artists who also work within the realm of research, interpretation and cultural production within art and museological settings, Oceanic Flow takes cue from the exhibition to offer further perspectives into the cultures of the Pacific and their embeddedness within the context of Australia.
Contributing Speakers:
Sione Napi Francis
Sione Napi Francis (he, him) is a Tongan Australian with ties to Aotearoa who grew up on Boon Wurrung country in Naarm / Melbourne. As a museum professional, cultural leader and artist, Sione is committed to serving First Peoples and Pacific First Nations and diaspora, through supporting open dialogues between communities, academics and cultural institutions. Sione's current areas of interest are Pacific First Nations: living representation, diasporia, cultural inclusion, climate emergency dialogue and co-curating/ development models in cross-disciplinary institutions across the Pacific region. Sione is guided by Tongan and Pacific cultural values and principles of respect, reciprocity, humility and generosity and ancestral belonging connecting him to the homelands. Sione is currently a Collections Co-ordinator at Museums Victoria and is studying an MA in Cultural Heritage Management at Deakin University.
Lisa Hilli
Lisa Hilli creates and curates kick arse exhibitions that shift narratives and art histories with a Melanesian feminine lens. She has specialist knowledge of interpretative use of museum collections, lens-based practices and the language of textiles. Her creativity is sparked by digging through archives, listening to human stories, and lucid dream states. She is driven to empower individuals and communities whose stories and knowledges are overlooked and to arm them with skills to share their stories their way. She is thoughtful, curious, and led by the important Pacific cultural value of reciprocity. Lisa is obsessed by the wondrous worlds of animated films and the joy and wisdom of growing plants.
Tamsen Hopkinson
Tamsen Hopkinson (Ngāti Kahungunu ki te Wairoa, Ngāti Pahauwera) is a Māori artist and curator whose practice is an expression of Indigenous Sovereignty, considering ideas around language, access, materiality and sound. She holds a Bachelor of Fine Arts (Honours) and a Bachelor of Arts majoring in Painting, Art History and Philosophy from Elam School of Fine Arts, Auckland. She has worked in curatorial roles across multiple art organisations over the last ten years including West Space, Monash University of Art, Design and Architecture (MADA), TCB Art Inc., UN Projects, Footscray Community Arts and The Substation. Selected recent exhibitions include: CONNECTPart 1 & 2 at Footscray Community Arts, Melbourne (2021); OFFSITE: Performing the Archive, West Space, Melbourne (2020); and Te rama taka i te Rangi, TCB art inc., Melbourne (2016).
The conversation will be convened by Mark Feary, Artistic Director, Gertrude, curator of Polyphonic Reverb.