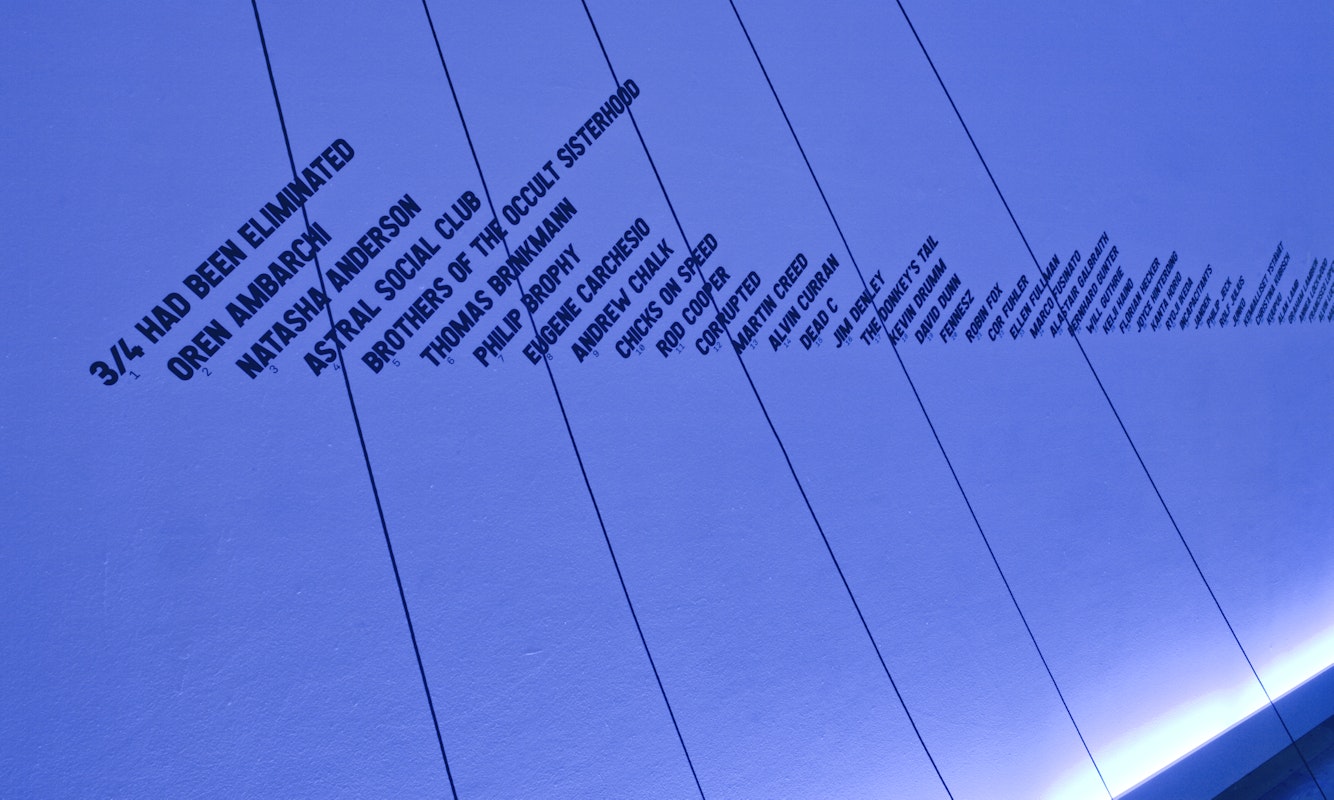 21:100:100, 2008, installation at Gertrude Contemporary. Image courtesy of the Gertrude Contemporary archives.
11 October -
8 November 2008
200 Gertrude Street
200 Gertrude Street, Fitzroy
Opening: 11 October 2008, 6pm—9:30pm


21:100:100 EVENT
A once-only sound event was scheduled in conjunction with this exhibition. This exclusive 21:100:100 event featured a live collaboration between Oren Ambarchi, Marco Fusinato, Robin Fox, James Rushford and Brendan Walls. Sunday 19 October, 9-10pm. BMW The Edge, Federation Square.
"When we separate music from life we get art." - John Cage

Presented as part of the 2008 Melbourne International Arts Festival, 21:100:100 featured 100 works by 100 sound artists produced in the 21st Century. This exhibition was the first significant survey to explore and chronicle the extraordinary developments that had occurred in contemporary sound art this century.

21:100:100 was developed by Gertrude Contemporary in collaboration with internationally acclaimed Australian artists Oren Ambarchi and Marco Fusinato. It included work made in the previous eight years - with some works made especially for the exhibition - chronicling new directions and innovations in sound art. These works were played on 100 headphones suspended within the gallery, creating a space for the visitor to pick their way through sound art's many and varied aural and conceptual evolutions.

The exhibition spanned a range of threads and styles within the art form, featuring work by a diverse selection of the worlds leading practitioners with artists including: ¾ Had Been Eliminated [Italy] Lucas Abela [Australia] Oren Ambarchi [Australia] Natasha Anderson [Australia] Thomas Brinkmann Philip Brophy [Australia] Brothers Of The Occult Sisterhood [Australia] Neil Campbell [UK] Eugene Carchesio [Australia] Andrew Chalk [UK] Chicks On Speed [Europe] Rod Cooper [Australia] Corrupted [Japan] Martin Creed (Owada) [UK] Alvin Curran Dead C [New Zealand] Jim Denley [Australia] The Donkey's Tail [Australia] Kevin Drumm [USA] Fennesz [Austria] Robin Fox [Australia] Cor Fuhler [Netherlands] Ellen Fullman [USA] Marco Fusinato [Australia] Alistair Galbraith [New Zealand] Bernhard Gunter [Germany] Will Guthrie [Australia] Keiji Haino [Japan] Florian Hecker [Germany] Joyce Hinterding [Australia] Kanta Horio [Japan] Ryoji Ikeda [Japan] Incapacitants [Japan] Jandek [Usa] Philip Jeck [UK] Rolf Julius [Germany] Junko [Japan] Kemialliset Ystavat [Finland] Christina Kubisch [Germany] Kuupuu [Finland] Alan Lamb [Australia] Graham Lambkin [UK] Annea Lockwood [Europe/Nz/USA] Francisco Lopez [Spain] Alvin Lucier [USA] Sachiko M [Japan] Lionel Marchetti [France] Christian Marclay [USA] Masonna [Japan] Maher Shalal Hash Baz [Japan] Mattin (Basque) Merzbow [Japan] Gordon Mumma Muura [Australia] Toshimaru Nakamura [Japan] New Blockaders [UK] Phill Niblock [USA] Hermann Nitsch No Neck Blues Band [USA] Jerome Noetinger [France] Jim O'rourke [USA] Optrum [Japan] Paeces [Australia] Charlemagne Palestine [USA] Paul Panhuysen [Netherlands] Pateras/Baxter/Brown Pita [Austria] Francis Plagne [Australia] Stephen Prina [USA] Eliane Radigue [France] Tom Recchion [USA] Rizili [Australia] Steve Roden [USA] Keith Rowe [UK] Runzelstirn + Gurgelstock [Switzerland] Philip Samartzis [Australia] Marcus Schmickler [Germany] David Shea [Australia/USA] Skaters [USA] Snawklor Michael Snow [Canada] Sonic Youth [Usa] Ssl (Robbie Avenaim/Dale Gorfinkel) [Australia] Striborg [Australia] Taku Sugimoto [Japan] Sun City Girls [USA] Sunn O))) [USA] Akio Suzuki [Japan] Yasunao Tone [Japan/USA] Toshiya Tsunoda [Japan] Voice Crack [Switzerland] Brendan Walls [Australia] Scott Walker [UK] Chris Watson [UK] Ralf Wehowsky [USA] Whitehouse [UK] Otomo Yoshihide [Japan] Richard Youngs (UK) Z'ev (USA)