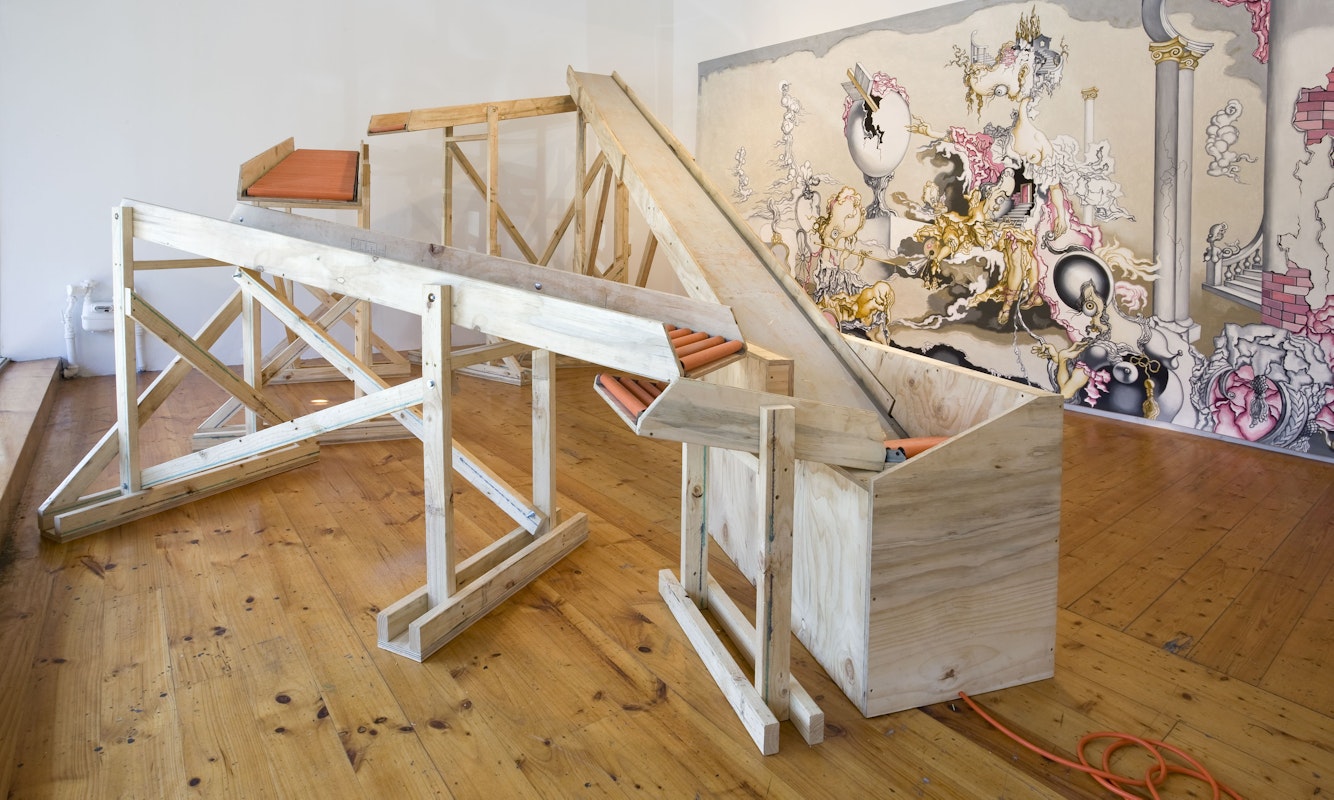 Installation view of Oblivion Pavilion, featuring the work of Marley Dawson, Tim Schultz and Agatha Goethe-Snape at 200 Gertrude Street
14 March -
12 April 2008
200 Gertrude Street
200 Gertrude Street, Fitzroy
OBLIVION PAVILION was presented as both a refuge and a ruin. Reminiscent of a fairground, the exhibition was a compendium of riddle-like structures that emphasised mythology, emotion, technology and culture. With work in a range of media by six Sydney-based artists, this exhibition celebrated upheaval, collapse, ruin, malfunction, indigestion, paranoia, threat, and confusion, disavowing the rules of system, time and location.

Sydney based artist Marley Dawson's towering kinetic sculpture occupied the Front Gallery of 200 Gertrude Street. This mechanical and apparently risk-laden contraption, conveyed discrepancies between work and play, where the artist laboured with gratuitous industry using utilitarian materials. With his nuts and bolts aesthetic, Dawson revealed the difference between effort and effortlessness, simultaneously building an empire against, and giving in to gravitational forces. Alongside Dawson's sculpture Tim Schultz's architecturally-scaled watercolour colonised the wall. Schultz's rococo surrealism turned the Wagnerian narrative of Tannhäuser in Venusburg on its head, combining myth with classical architecture showing each to be equally fragile forms.

In the main gallery Gothe-Snape's painted props vividly articulated hopes, troubles and what has been lost. Freestanding, fallen and built-in, with archways as the principle figure, these structures were complicated by ornamental and abstract text paintings. They marked passages or phases of transition and were signposts by which to navigate personal inclinations and signal sympathies within the heart of things. Hopkins arranged the technology of today by order of future understanding. Large, paranoid brain bags dictated confused explanations and other emanations, efficiently producing failure.

In lieu of a more conventional exhibition catalogue, Hunt and Welch (who together have produced the satirical pop culture rag, DUKE Magazine) created a special publication that acted as both a work in itself and refered to the exhibition and its artists through a series of interviews and exposés. The publication presented as a parodic appropriation that employed absurdist visual and written materials.