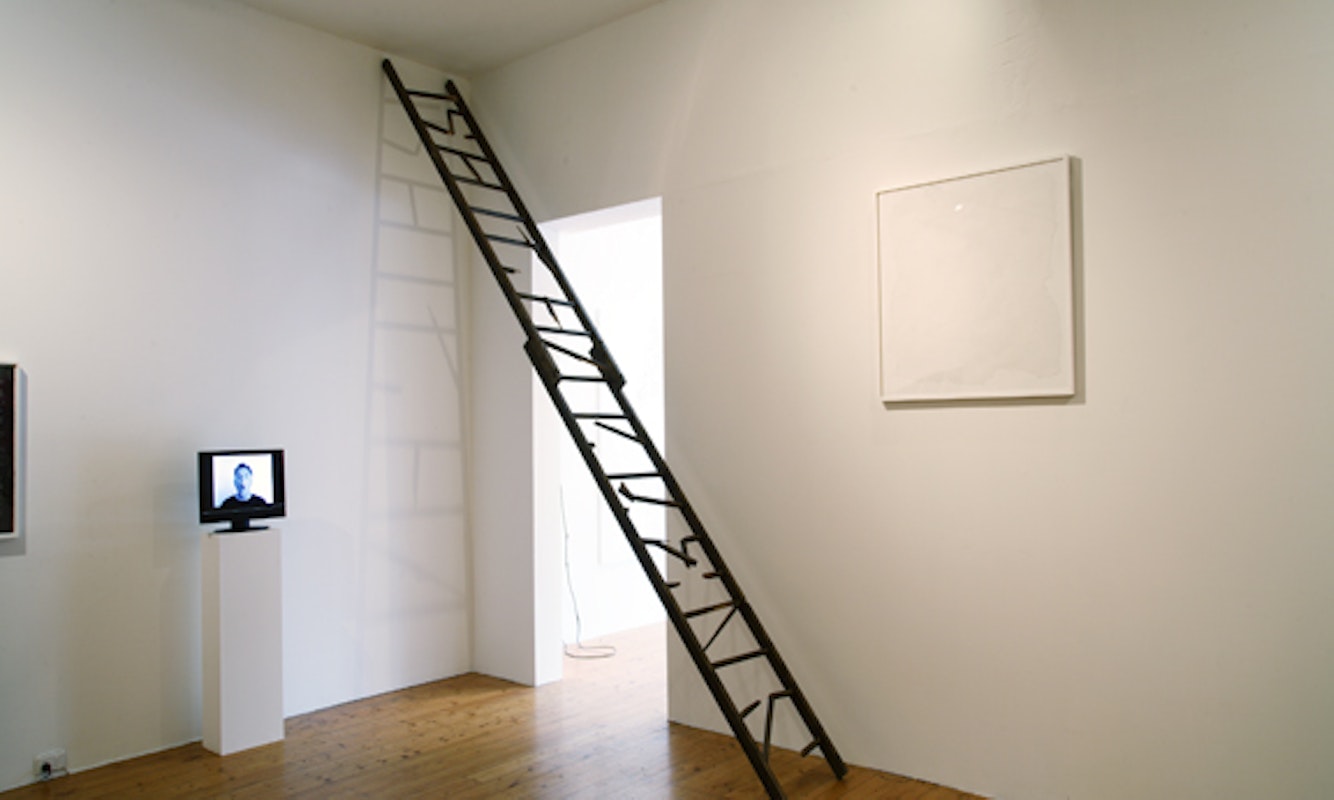 Installation view of 'Gertrude Studios 2007' at 200 Gertrude Street
16 November -
15 December 2007
200 Gertrude Street
200 Gertrude Street, Fitzroy
Gertrude Contemporary Art Spaces annual Gertrude Studios exhibition was an unrivalled opportunity to view new work by 16 of Australia's most talented artists. As a centre for risk, experimentation and creativity, Gertrude Contemporary studio exhibitions are synonymous with all that is exciting and progressive in contemporary Australian art. Featuring work across a range of media by all of GC's 16 local studio artists, Gertrude's Studio 2007 exhibition was rich in diversity and innovation.
Acclaimed painter Noël Skrzypczak inscribed her vast amorphous wall paintings directly onto the gallery wall, skewing the architecture with her organic, elusive forms. Simon Pericich's sculptural installation took the form of a self-sustaining chandelier constructed entirely from a destroyed wooden structure. The structure was smashed and reconfigured to include fluorescent lights and pots of weeds that are fed by water pumped endlessly throughout the structure. Pericich's work points to the possibility for creation within destruction.
Games and play were the focus of the new work by Nick Selenitsch who had created a series of spinning tops made from CD's. Following on from his geometric abstractions of basketball hoops and aimless velcro target games, these new works showed that it is possible to a have "a frivolous good time while addressing the profound."
Brodie Ellis's installation functioned as an exercise in the redistribution of value, where large-scale replicas of cutting edge technology are meticulously rendered and reinterpreted through the use of common and readily available materials.
Alex Martinis Roe continued her investigations into intersections between the body and architecture with a new multi-media installation - where she literally eats her way out of the gallery wall; and Lily Hibberd showed new work that described hair salon portraits as the perfect narcissistic representation, that is symptomatic of "the domination of life by images."
This dynamic and challenging exhibition featured new work by Ben Armstrong, Pat Foster/Jen Berean, Starlie Geikie, Matt Griffin, Bianca Hester, Mark Hilton, Natalya Hughes, Florentina Munteanu, Sanja Pahoki and Christian Thompson.