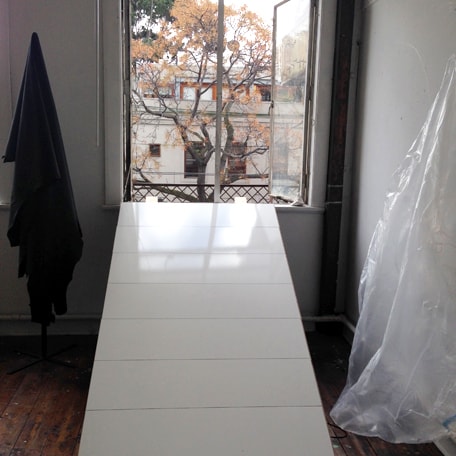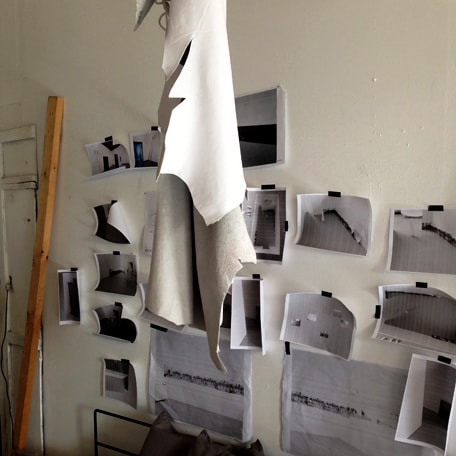 These pictures are from Gertrude Studio Artist Helen Grogan's studio space. The artist has multiple projects in stages of development up in Studio 3 at 200 Gertrude Street. Helen applies choreographic thought and processes as strategies to activate spaces and situations, and seeks an embodied attention to the present and concrete.
Helen Grogan is currently in the process of making the work 'Choreography (For Gallery 2, ACCA), 2006 - 2014', for forthcoming exhibition Framed Movements at ACCA. The print outs depicting a marquette show the collaborative working process of Helen with dutch artist Gwenneth Boelens.
Helen is also curating a six-part series on choreography as an expanded field entitled SPECIFIC IN-BETWEEN (The choreographic negotiated in six parts). The series is also a part of Framed Movements and will occur over six Wednesdays in ACCA's gallery one, and through accompanying online materials. The white laminate flooring currently in her studio will act as a movable setting to generate alernative relationships between the viewer and performance. Artists involved include; Gwenneth Boelens, Matthew Day, Agatha Gothe-Snape, Nathan Gray, Helen Grogan, Brian Fuata, Geoff Robinson, Claire Lamb, Shelley Lasica, Benjamin Woods amongst others.
Framed Movements will run from 10 October until 23 November at ACCA, and is also a part of the Melbourne International Arts Festival.
Helen presented a performance and installation work at Slopes in April this year, which she is currently developing for a 4-week long solo exhibition at West Space early next year, concurrently presented with a solo project by Gertrude alumni Geoff Robinson.