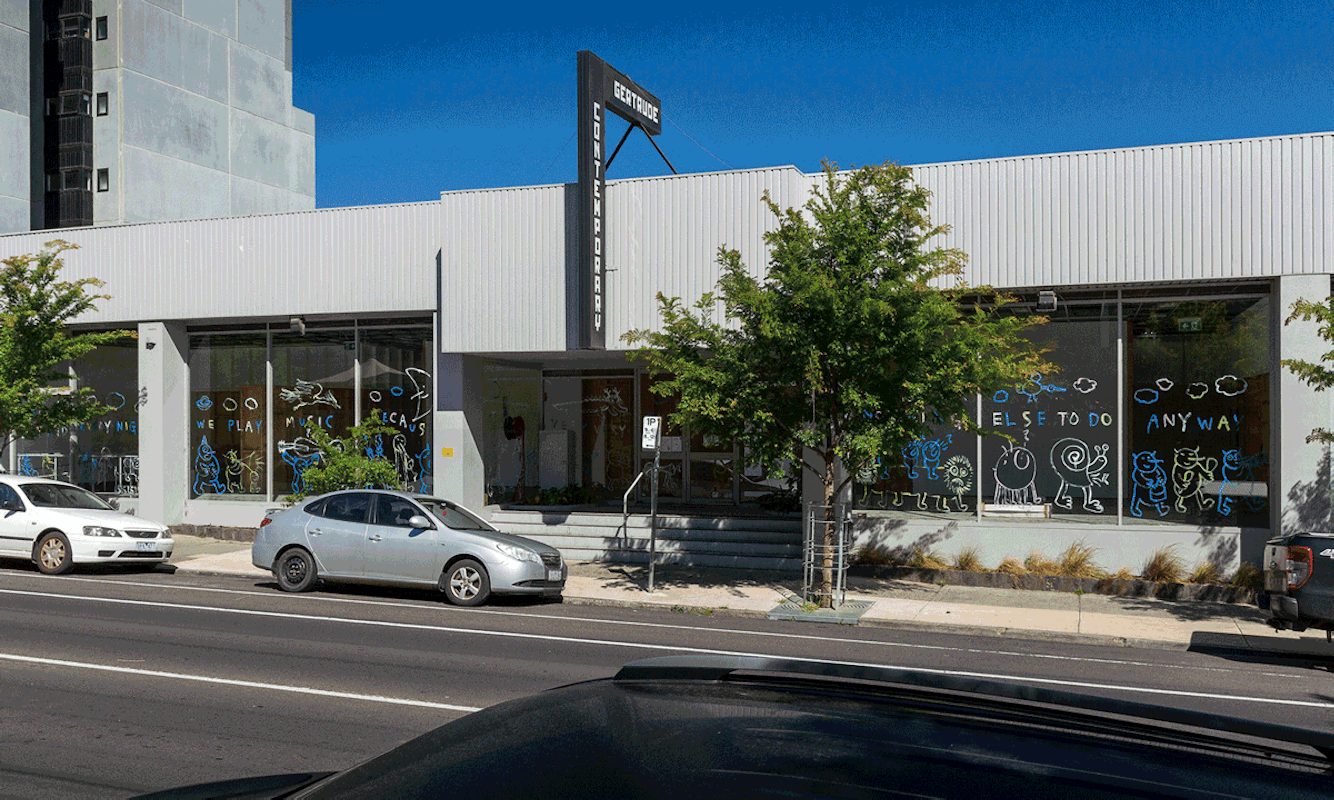 Open Day
Saturday 26 March 2022, 1:00am
Gertrude Contemporary
21-31 High Street, Preston South
Saturday 26 March, 12 - 4pm
Once a year, Gertrude opens our private studios to the public, providing audiences with a special opportunity to explore the Preston spaces, meet the artists, view works in progress and experience the environment in which Gertrude Studio Artists create their work.

On Saturday 26 March, Gertrude hosted a day-long program of events, workshops, studio tours and artist talks.

Gertrude Board members hosted a free sausage sizzle at midday, and throughout the afternoon, the public took part in workshops led by Gertrude Studio Artists, studio tours led by Gertrude's Artistic Director and Curator in Residence, and a series of artist talks coinciding with our artistic program. Each workshop was suitable for children and adults of all ages.
PROGRAM
From 12pm | Free BBQ
Hosted by the Gertrude Board members
12 - 4pm | Artist Workshop: National Celebrity Portrait Prize
Have you got what it takes to win the inaugural National Celebrity Portrait Prize? Join Gertrude Studio Artist Georgia Banks as she leads a drop-in style, all ages portrait painting workshop. Add your completed canvas to an evolving exhibition of public entries and see if you can take the top prize.
12 - 4pm | Artist Workshop: Create your own Digital Animation
Create your own digital animations made on your phone or tablet with Gertrude Studio Artist Sarah Brasier as part of this artist-led workshop. Join Sarah to contribute to a collaborative animated story written by everyone: guided by the drawn additions of each workshop participant. This is a drop-in workshop for people of all ages.
1pm | Studio Tour
Join Artistic Director Mark Feary and Curator in Residence Tim Riley Walsh for an informal tour of the artists' studios
2pm | Artist Performance
Performance by Gertrude Studio Artist Scotty So
*Please note that due to illness the in conversation series between Atong Atem and Bigoa Chuol will not be going ahead on Saturday 26 March.

3:15pm | Artist Talk
Join us in Gallery 1 for Vittoria Di Stefano in conversation with Fleur Summers about current exhibition The Palace at 4pm
4 - 6pm | Closing celebration
Join Gertrude, Gertrude Artists and current exhibiting artists for a closing celebration of both the current exhibitions at Gertrude Contemporary and to conclude the Gertrude Open Day program.
Gertrude Open Day is inclusive and appropriate for all ages and abilities, and we welcome everyone to join us. Gertrude Contemporary's gallery, amenities and studios are wheelchair accessible, with ramp access, accessible toilets as well as baby change facilities. If you have any access needs that you would like to discuss, please get in touch.
The Gertrude Open Day is generously supported by Darebin Arts. The Gertrude Open Day is a partner of FUSE@Large, FUSE Darebin's open access program.